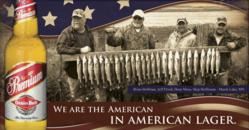 New Ulm, MN (PRWEB) April 12, 2013
The August Schell Brewing Co. is set to launch a new Grain Belt marketing campaign featuring the phrase, "We are the American in American Lager."
The goal for the new campaign is to evoke the pride and spirit of loyal Grain Belt drinkers. It will invite Grain Belt Facebook fans to share the hobbies, passions and experiences that make them proud to be American. The campaign will highlight new topics monthly. April's theme will be American restoration. Grain Belt will ask that their fans post photos and stories telling them about the restoration projects they've been working on over the long winter with a Grain Belt product highlighted within the picture. A small board consisting of members of the Marti family (5th and 6th Generation Schell) will post comments and choose a winner at the end of the month.
When the winner is chosen internally they will be asked to email tholm(at)schellsbrewery(dot)com a high-resolution version of their picture within two days or another winner will be chosen. The winner's photo featuring their project, a Grain Belt product, name and hometown will be used in Grain Belt advertisements and marketing collateral. The winner will be mailed a large Marti family signed printed version of the ad.
Grain Belt beer is a local legend. For more than 100 years, Grain Belt has been the beer that fathers have passed on to sons and friends have passed among each other at local bars and watering holes. It is a beer that spans generations, and unlike many of the American Lagers being made today, it is still proudly made in the USA. Everything from the barley, hops, bottles and beer labels can be traced to locations here. This tradition and steadfast loyalty is why Grain Belt has become legendary-both here and across America.
About August Schell Brewing Company:
August Schell Brewing Company, located in New Ulm, MN, is the second-oldest family owned brewery in the country. Brewer of Schell's and Grain Belt (http://www.grainbelt.com), it sits atop the same site it was built on in 1860. With its sprawling grounds, beautiful gardens, Schell Mansion, and deer park, the brewery is a tourist destination for any beer lover. Schell's boasts a proud heritage of 153 years of continuous family ownership and specializes in craft beers. In addition to the line of specialty beers, Schell's also produces Grain Belt Premium, Grain Belt Premium Light and Grain Belt Nordeast. For more information on Schell's Brewery, tour schedules or any of their 17 quality beers, go to http://www.schellsbrewery.com.