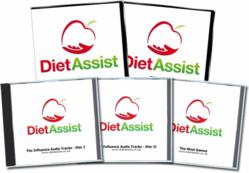 This news shows how we are more influenced by our environment than we might care to admit.
(PRWEB UK) 15 April 2013
Retailers say sales of winter foods such as stews, pies, casseroles and hearty soups have reached 'unprecedented levels' because of spring's late arrival.
Some supermarkets have reported selling triple their usual amount of so-called comfort foods ahead of what is said to have been the coldest Easter on record, according to trade magazine, The Grocer.
Supermarket Morrisons, said that sales of pies were up by 246% in the week leading up to the Easter weekend. The chain sold 80% more soup than in the same period last year
Temperatures dropped to lows of -12.5C on 31st March, making it the coldest British Easter day on record.
Britain has been hit by some of the coldest April temperatures for almost 100 years.
Co-creator of DietAssist, Rob Woodgate, says "This news shows how we are more influenced by our environment than we might care to admit. When faced with unseasonal winter conditions, our automatic response is to reach for comfort foods. We don't really think about it - we just do it automatically."
"At DietAssist, we believe that over 95% of eating is emotionally driven, and that is why dieting is usually so hard using willpower alone. We teach people how to lose weight more easily by taking back conscious control of their eating habits and behaviours so that they can avoid automatic comfort eating."
The DietAssist programme is the result of over 20 years experience of helping people to lose weight effectively, and uses the latest psychological techniques to avoid the self sabotage and demotivation that dieters commonly experience.
The DietAssist programme gives dieters a deep understanding about how their mind works, and how to use it to their advantage – whatever diet or sensible eating plan they are using. It aims to help them to take back control over their eating behaviours and teaches them to act more appropriately in relation to food and eating in the future.
The DietAssist programme helps dieters strengthen their motivation and resolve, and creates the optimum psychological state for success.
People wishing to learn more about how DietAssist can make losing weight easier can join the 30 Day Weight Loss Challenge, in which members of the public can receive 30 days access to the DietAssist weight loss programme for just £1 so they can see how well it works in practice.