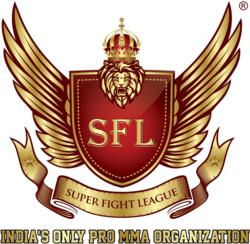 I am thankful to the Pearls Group
and it's Chairman for showing his faith and trust in our league. Pearls group is one of the few companies in India who have backed action sports such as Kabaddi, Kushti and now MMA. - Raj Kundra, Founder Chairman, SFL
Mumbai, India (PRWEB) April 12, 2013
Super Fight League, Asia's largest MMA Organization, today announced a new 3-year title sponsorship deal with PACL India Limited (Pearls) (http://www.paclltd.com). Pearls SFL is Asia's largest Mixed Martial Arts promotion. SFL is the brainchild of Raj Kundra, owner of Rajasthan Royals, and the Bollywood action superstar Sanjay Dutt. As title sponsor Pearls Group has also taken naming rights of SFL's Friday Fight Nights events, which will continue, to air live and free on a bi-weekly basis on ESPN Star Sports 1 & 2 along with a live free stream on YouTube.com/SFL.
PACL Limited Chairman said, "We are a national company delivering top quality real estate projects. We believe we can use SFL as a platform to showcase our products and brand to a unique new audience associated with watching this action packed sport." He continued, "We are dedicated to promoting action sports throughout India especially when you consider most of our Olympic medals come from Boxing or Wrestling."
SFL provides Mixed Martial Artists from India and abroad a chance to showcase their talents and grow the sport of MMA in India. SFL has over 250 Indian based fighters signed and continue to expand their roster, which currently sits at over 300 male and female athletes. PACL Limited Chairman went on to say, "SFL has continued its success with great ratings on ESPN's STAR sports along with a portfolio of great Indian and international fighters on their roster and sponsors associated with them. We believe in long-term association and are proud to partner with Raj Kundra and Shilpa Shetty Kundra in the SFL."
Raj Kundra, Founder Chairman of Super Fight League, said, "I am thankful to the Pearls Group and its Chairman for showing his faith and trust in our league. Pearls group is one of the few companies in India who have backed action sports such as Kabaddi, Kushti and now MMA. The Pearls company tag line is very apt for SFL 'Touching Hearts Building Confidence'. We look to deliver bigger and better shows to our Indian and worldwide audiences. The support our Indian cage fighters have been given has really helped boost their confidence and livelihood to be able to use SFL as a platform to make name, fame and money. Our reach delivers sponsors a quality product and the format of the sport is such that it gives the brand logo's great coverage during the live events. Again I thank and welcome Pearls group to the SFL family."
Shilpa Shetty Kundra, Director for SFL, said, "We are happy to have the Pearls Group as a title sponsor and welcome them to the SFL family. We have worked very hard over the last year to build a platform and India's only all year round sports league. It's wonderful to see brands come forward and have faith in the reach of the sport of MMA in India. India being an action loving country, we all love watching action movies but nothing beats real life action in the cage. The ratings have been very promising and we strive to keep our audiences and sponsors happy whilst building SFL into a world class MMA league."
Super Fight League's Pearls SFL will hold bi-weekly events through March of 2014 live on ESPN STAR Sports 1 and 2 and http://www.youtube.com/sfl. For more information on all the action, please visit http://www.superfightleague.com.
About PACL India Limited (Pearls)
PACL India Limited (Pearls), an ISO 9001:2008 and ISO 14001:2004 certified company, began with a clear road map when it set sailing way back in 1996. Yes, 16 years ago, the seeds of PACL India popularly known as "Pearls" were sown.
Its mission was clear: to engage in carrying out real estate business i.e. development of group housing projects, townships, construction and development of commercial projects, shopping malls, farms or farm houses as well as sale and purchase of land to the prospective customers and after allotment and sale deed registration, the customers become the absolute owner of plot.
Today, PACL is a fast emerging real estate company with a comprehensive portfolio of completed and upcoming projects in big metros and towns in northern, western and southern parts of the country. The company is gradually gaining foothold in eastern markets also.
Traditionally, PACL has been involved in sale and purchase of agricultural land. The company takes immense pride in its innovative approaches and having received trust and faith of millions of institutional and retail investors from across the country. In its fifteen years of existence, the company has added a number of new business initiatives, a few of which include tourism, hospitality, education and media. The name Pearls that stands for innovation, quality, and trust has become a name to reckon with among large sections of the society.
PACL is widely recognized and credited with providing impetus to rural development in the country in the form of exemplary farm management techniques, upgradation to farmers, and generating plethora of employment opportunities for rural youth.
About Pearls Super Fight League
Pearls Super Fight League is Asia's leading Mixed Martial Arts organization with shows appearing on ESPN STAR sports. Over the past decade, with the guidance of state athletic commissions throughout the United States, Mixed Martial Arts has developed from a spectacle into a highly respected sport with a global audience. Major fights between world-renowned Mixed Martial Arts superstars are among the most popular sporting events of the year, surpassing pay-per-view records of boxing and professional wrestling.
Sports fans around the World have made their voices heard, they want a sense of real competition when they watch sports, and MMA delivers. Pearls Super Fight League brings Mixed Martial Arts to India and it brings it the world through its partnership with YouTube.com. MMA fans can catch all Pearls Super Fight League events live and for free on TV in India and YouTube elsewhere in the world.
Raj Kundra and Sanjay Dutt founded Pearls Super Fight League in 2012. Both men are proven leaders in Sports and Entertainment in India and both are well respected and successful Entrepreneurs. Collectively they have become dominant forces in India's Bollywood and Cricket scene and now Mixed Martial Arts.
Website: http://www.superfightleague.com
YouTube: YouTube.com/SFL
Twitter: Twitter.com/TheFightLeague
Facebook: Facebook.com/SuperFightLeague
Media Contact:
Ingrained Media: Bob(at)ingrainedmedia(dot)com