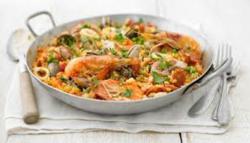 demand for paella rice had risen by a huge 26%
Sheffield, South Yorkshire (PRWEB UK) 15 April 2013
In recent austerity families are struggling to eat healthily as they battle against ever rising food bills and shrinking budgets. More than 13 million people in the UK live in poverty and are experiencing food shortages on a massive scale. Admittedly food prices have risen all over the world, but in the UK food prices have increased by 32% since 2007 and British families just can't keep up. Last month reports suggested that the retail demand for paella rice had risen by a huge 26%. This recent surge in sales of paella rice suggests that British families are looking to traditional Spanish recipes for inspiration in creating wholesome, delicious and cheap meals for the whole family to enjoy together.
The appeal of paella is easy to see, a giant paella pan could feed a whole family a healthy and satisfying meal on the tightest budget. A spokesperson from Paella World, a leading UK distributor of paella pans, had this to say "We believe the surge in popularity of paella rice is mainly due to the struggling UK economy. Families want recipes that are delicious but that are also plentiful and inexpensive"
Paella is also encouraging families to spend more time together at meal times. Gone are the days of individually microwaved dinners, cutbacks at home mean more time is spent cooking and more time is spent around the table as a family. Our spokesperson told us "Paella is a great way of bringing the family together at meal times. It's typically served in a big paella pan, on the table, and everyone digs in! A paella dish is something for the whole family". If this truly is the case perhaps a budgeted grocery shopping list isn't such a terrible thing after all?
Paella World is the UK's leading distributor of authentic Valencian paella pans. They also specialise in the highest quality paella ingredients and traditional Spanish cooking utensils.
For further information visit http://www.paellaworld.co.uk or call 0114 2873891. Alternatively you can keep up to date with Paella World's latest offers on Facebook and Twitter.