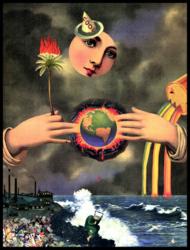 Thematic collections, such as this, allow us to feature our talented artists in a way that engages visitors and provides context for the artists' work.
Lambertville, N.J. (PRWEB) April 15, 2013
Artspan, a major art destination and leading provider of artist websites announces a curated collection of works by Artspan member artists to mark Earth Day 2013 (April 22nd). The collection considers the relationship between humans and the environment. These original member artworks focus on natural landscapes, pollution and waste, as well as reduced energy consumption and environmental preservation. This is one of several thematic collections featured on Artspan.com. Artspan.com is a portal to the world of contemporary art, featuring the work of 4,000 artists in a wide range of disciplines, which include painting, photography, mixed media, ceramics, sculpture and more.
"Thematic collections, such as this, allow Artspan to feature the most talented artists in a way that provides context for the their work, and engages visitors" says Artspan Founder and Director Eric Sparre.
Shown here are three works from the Earth Day collection. John Craig is a noted illustrator and artist. His digital collage, "The Mother," was originally created for the environmental activist organization, the Earth Island Institute, and is a commentary on our treatment of the environment. Sacramento-based mixed-media artist Judith Monroe portrays contemporary landscape using a collage of photos combined with a variety of organic materials. Her shadow box, "Spot of Earth Supremely Blessed," shows the disconnect between the built environment and its natural counterpart. Monroe's work has been featured in The Best of Photography Annual and can be found in public and private collections throughout the US. Jennifer Knaus ("Ground Cover") creates plant-filled portraits that combine female iconography with traditional still life painting. She has exhibited widely throughout the United States.
Artspan members have their own independent websites; their work is also included in the Artspan Shops and elsewhere on Artspan.com.
About Artspan:
Founded in 1999 by painter Eric Sparre, Artspan.com is a major contemporary art destination connecting producers and consumers of contemporary art, featuring 4,000 artist and artisan websites in many different categories, including painting, photography, sculpture, ceramics and jewelry. No technical background is required to manage the Artspan member websites, and the sites have an extensive variety of features and options at an affordable price.
Artspan is unique among online artist communities and providers of templated artist websites, in offering artists the best of both worlds: Member artists benefit from being part of a searchable, high-traffic community, consistently top-ranked for the term "Contemporary Art" by Google and Yahoo, while maintaining the autonomy of their own URL. Members can also access a wealth of marketing information and, in an age of limited or non-existent customer service, the Artspan Help Desk can be reached by phone or email. http://www.artspan.com.