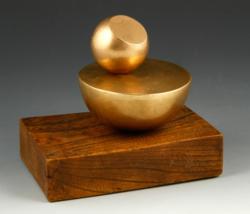 Beverly, MA (PRWEB) April 15, 2013
April 7th hosted Kaminski Auction's dedicated twentieth century sale, which offered modern fine art, furnishings, and decorative art from throughout the last century.
The much anticipated Barbara Hepworth sculpture, "Sphere and Hemisphere," took the top spot in the auction, selling for $29,000 to a phone bidder. The small bronze sculpture, part of Hepworth's series of sphere investigations, was sold along with her catalog raisonné that included the piece.
Paintings performed particularly well in the April sale. Lot 5276, listed as "In the Manner of Hans Hofmann," also caught the attention of many bidders with its bold swatches, splatters, and drips of color. The dynamic painting sold for $5,500 to an internet bidder.
Phone and online bidders also competed for an Anna Richards Brewster painting, "Street in Tunis." Anna Richards Brewster was a talented American impressionist active around the turn of the century. She produced paintings throughout her travels with her husband, which included trips to Europe and the Middle East. The painting offered at Kaminski depicted an Arab street scene and sold for $4,750.
A pair of Robert Kipniss paintings also saw considerable bidding action. The auction included two pieces by the New York artist, one larger landscape featuring a monochromatic view of simplified houses, hills and trees, and another understated still life of a simple cup and spoon. Both paintings performed well, selling for $4,250 and $1,600 respectively.
Works by Marcel Renard and Lloyd Ney both sold above pre auction estimates. Marcel Renard's 1927 hydrocal plaque depicting a woman and two birds fetched $3,500, while the Lloyd R. Ney watercolor and pen abstract sold for $3,100.
The auction also featured a fine selection of sculptural pieces and furnishings. The large scale mahogany model airplane, featured in pre sale press releases, brought in $4,000. A J. Moody modernist sculpture of a woman with flowers and a floral dress sold higher than estimated at $2,700. Top selling furniture pieces of the sale included a John Vesey Mid-Century Modern side table in stainless steel and brass with a round glass top for $2,700, and a set of Harvey Probber American Modern "Atomic" tables. The set included two semicircular tables with central cutouts supported on thick tapered legs that sold for $1,800.
With the conclusion of this successful dedicated sale, Kaminski looks forward to hosting their next Twentieth Century Design Auction on June 9th, 2013.
Kaminski
Kaminski Auctions, located on the North Shore of Boston, has been serving the New England antiques market for over 25 years as a full service auction house and appraisal service for fine art, antiques and estates.
With two locations in Beverly, Massachusetts, including a new state of the art auction gallery located at 117 Elliott Street, and a historic 1850's barn and office facility at 564 Cabot Street, Kaminski Auctions hosts 25 auctions a year.
In today's highly competitive market of fine art and antiques, Kaminski Auctions provides its customers with bicoastal services and marketing with west coast offices in Beverly Hills and San Diego, California.
Kaminski Auctions offers specialty departments in Asian Art and Antiques, Silver, Glass and Lamps, Couture and Vintage Clothing, Photography and Modern Design . We have highly trained and knowledgable appraisers on staff that will help you determine the true value of your antiques, or entire collections. Free Appraisal days are offered every Tuesday from 10:00am-4:30pm at our 564 Cabot Street location in Beverly, Massachusetts & our 5171 Santa Fe Street location in San Diego, California. We welcome emailed photos of your items!
Contact Harry Morgan - hmorgan(at)kaminskiauctions(dot)com.