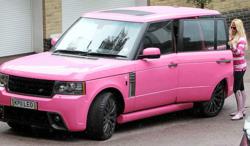 Nearly one in five people would buy a celebrity's used car
Manchester, UK (PRWEB UK) 15 April 2013
With Jordan (aka Katie Price) currently selling her pink range rover on Twitter, new research* from car finance and dealer specialist carfinance247.co.uk has highlighted how nearly one in five people (18%) would buy a celebrity's used car.
And with just over a quarter (26%) saying they'd buy a used celebrity car for the fun of knowing who'd owned it, 13% were more canny, saying that a celebrity's second hand car is likely to come with more extras – such as Jordan's (alleged) diamond encrusted car clock.
This thought was echoed almost equally by both male (15%) and female drivers (12%) and backs up a recent study* which said that 17% of cost-conscious used car buyers do so in order to get the added extras that the original owner would have paid for.
The survey also found that the average motorist who would buy a pre-owned celebrity's car is in the £20,000 - £39,999 pa income bracket and is aged 40-49 years old.
A third of those in the 50-59 age band were the most unlikely to buy a used car that had once been owned by a celebrity as were 25% of those who earn more than £40,000 a year.
Emily Henshall, Marketing Manager at Carfinance247.co.uk, says: "It is always fun reading about celebrities and their new cars. But we never stop to think about their old ones - what happens to them and who buys them. Our study shows there is clearly a market in celebrity second hand cars with nearly 20% of people prepared to buy one."
Ends
*Independent research carried out in April 2013 on behalf of Carfinance247.co.uk by Usurv in March 2013.
Contact:
Emily Henshall, Marketing Manager, Carfinance247.co.uk, telephone: 0800 019 7180 or email: emily.henshall (at) carfinance247 (dot) co.uk
Stella Hulott, Speedie PR, telephone: 01843 831088 or email: stella.hulott (at) speediepr (dot) co.uk
About us:
Carfinance247.co.uk was founded in 2000, and is a privately owned business with offices based in central Manchester, offering a wide range of motoring and financial services.
We provide vehicle financing solutions for all financial circumstances such as hire purchase, personal contract purchase, contract hire and other leasing options. No deposit is required and we give you the choice of buying any car from any dealer nationwide. Or, if you prefer, we can supply and deliver any make and model of your choice.
Address: The Loading Bay
Albion Works
12-18 Pollard Street
Manchester
M4 7AJ