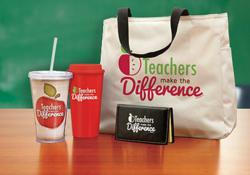 Teachers and nurses are both extremely hardworking professionals. It's important to honor their dedication on these recognition holidays.
Grand Rapids, MI (PRWEB) April 16, 2013
The month of May is a busy time for appreciation events and award ceremonies, says Baudville, the leading provider in day-to-day recognition and award solutions for education, healthcare, and business. Popular events like Teacher Appreciation Week, National Nurses Week, and National Hospital Week all take place in the early days of May. To remind customers to celebrate these holidays, Baudville has released new teacher gifts, recognition themes, and nurses gifts.
"Teachers and nurses are both extremely hardworking professionals," said Kristy Sherlund, Vice President of Product and Merchandising. "It's important to honor their dedication on these recognition holidays."
Organizations have turned to Baudville for thirty years for their recognition and appreciation needs thanks to their exclusive recognition themes. Baudville's recognition themes, a collection of gifts with a common message and design, are great for appreciating teachers and nurses.
"Our recognition themes are extremely popular for appreciation events," said Sherlund. "Customers can apply the theme to the gift, décor, and messaging of their entire event."
The new recognition theme for teacher appreciation, Teachers Make the Difference, features seven new teacher gifts. Sherlund expects Team Shirts to be popular for Teacher Appreciation Week, too, since there are several t-shirt designs created specifically for educators.
For nurses, Baudville's new Nurses Make the Difference recognition theme includes six new nurses gifts. Baudville is also the exclusive provider of Steth-o-Charms TM, a decorative gift that healthcare professionals can display on their stethoscopes. Steth-o-Charms have been very popular for both National Nurses Week and National Hospital Week.
In addition to its popular recognition themes and gifts, Baudville also provides resources to help with appreciation event planning. Sherlund recommends event planners visit Baudville's online Recognition Resource Center for websiodes, ebooks, and articles with tips and ideas for appreciation celebrations.
View the new teacher appreciation and nurse appreciation themes at http://www.baudville.com/new-products.
About Baudville
Baudville, the place for daily recognition, continues to be the leading innovator in day-to-day recognition solutions. Baudville's day-to-day recognition solutions appeal to today's increasingly diverse workforce with contemporary designs and relevant messaging, motivating and engaging workplaces world-wide. Baudville has been declared one of the best companies to work for in its area and has received the ELITE award from STELLAService for excellence in customer service.