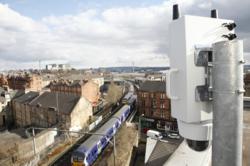 Set to revolutionise redeployable camera solutions, StreetVision features a native IP platform and enables the operator to view footage anytime from anywhere.
Glasgow, UK (PRWEB UK) 18 April 2013
Boston Networks, UK leaders in Intelligent Building & Integrated Security Solutions and Wireless Systems, today announces the launch of StreetVision, its unique IP-based rapid deployment surveillance solution.
Competitively priced and set to revolutionise redeployable camera solutions, StreetVision features a native IP platform and enables the operator to view footage anytime from anywhere. Multi-megapixel footage can be both stored locally and transmitted to any location where, using StreetVision's user interface, the operator can view live or recorded video via a PC client or a dedicated iPhone, iPad or Android app.
The true benefits of StreetView, in comparison to its redeployable predecessors, are the fact that it provides exceptional image quality over 3G compared to analogue redeployable version, and the ability to transmit high quality, multi megapixel footage either via 3G or on a broad range of wireless backhaul links, enabling users to easily integrate the solution virtually anywhere in their existing network infrastructure. Combining both of the aforementioned benefits deliver significant cost savings and an undeniably swift ROI, not to mention indisputably superior footage than any analogue camera.
The sheer flexibility of the solution and its rapid redeployment capabilities ensure that not only the cost of the unit is appealing but it also negates any unnecessary service interruption normally associated with analogue systems and lengthy redeployments.
Additionally, StreetVision guarantees the highest levels of interoperability for backhauling real time video streams from a redeployable camera and facilitates control room and video wall integration, for enhanced and simplified viewing.
Easily mounted on either pole or wall, StreetVision is ideally suited to a wide range of sectors and can be used to provide high quality surveillance for events, trouble spots and construction sites to name a few. The StreetVision is available in a number of variants including up to 4 mega pixel cameras offering unmanned 360° complete situational awareness.
Commenting on the launch, Keith Anderson, Chief Executive Officer, Boston Networks states: "The launch of StreetVision delivers yet another compelling argument for the move to IP Video Surveillance. The quality, performance and simplicity which StreetVision delivers allows our customers to provide improved public safety, whilst making substantial savings on their CCTV infrastructure."
"Our dominance in the IP CCTV space continues to grow and StreetVision provides a further method of delivering tangible savings on both capital and revenue costs by using smarter technology."
Key Features include:

Megapixel camera for outstanding resolution
Native IP platform
On board storage
Optimised for 3G connectivity
Multiple wireless backhaul option
Rapid deployment and redeployment
Intuitive user interface to view footage from anywhere, anytime
Frame interrogation capability
ONVIF compliant
Control room integration
Secure network connection
Full maintenance service available
About Boston Networks
Boston Networks is a leader in the design, planning, installation and support of high-performance Intelligent Building Systems and Wireless Solutions.
Specialising in Cabling Services, Network Infrastructure, Wireless LAN & WAN and Integrated Security Systems, encompassing CCTV, Access Control, Fire Safety and Intruder Detection, we offer the best of breed technologies and deliver a comprehensive range of bespoke solutions and professional Support Services throughout the UK.