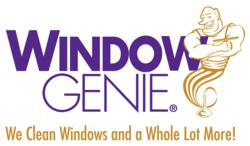 My employees can finally work in cooler conditions and now we'll be spending less money on energy to keep the water the right temperature.
Cincinnati, OH (PRWEB) April 12, 2013
Window Genie installed window film on the windows at the City of Weatherford Water Purification Plant this week. Anticipating a hot, sunny Texas summer, Taz Thurman, Water Purification Plant Manager, decided to have window film installed to help them save money on utility bills, create a more comfortable indoor environment for employees and most importantly, prevent algae growth in the city's water.
Window film is an environmentally friendly, green product with immense versatility. The most exciting, quickest return on investment, is installing window film to control a home or office's internal temperature. During the hot summer months window film keeps homeowners and business owners from having to overextend their air conditioner to maintain a comfortable temperature. Window film provides solar heat rejection, deflecting the sun's rays preventing external heat from penetrating the windows. Up to 40% of the energy used by air conditioners can be lost due to windows, a significant portion coming from the solar energy that comes in through the glass. Window film can cut energy expenditures up to 30% by blocking incoming solar energy, making rooms more comfortable to enjoy while cutting down utility bills. This extends the life of air conditioners and heating systems because they are not working at capacity to achieve desired temperatures.
Thurman said, "Having Window Genie come install this film is going to help us out so much this summer and beyond. The building can get extremely hot as we have enormous windows letting in the hot summer sun. My employees can finally work in cooler conditions and now we'll be spending less money on energy to keep the water the right temperature. Algae growth is a big concern that we're hoping to prevent by limiting the heat and sun rays entering our facilities. Providing the area safe, clean water is our number one priority, and window film is helping us stay successful at that."
Window Film's other uses include reduced glare and fading of interior furnishings, privacy, security and a clearer view to the outside. To learn more about exclusive, top of the line films offered by Window Genie, call Chuck Street at (817) 378-4727 or email him at cstreet(at)windowgenie(dot)com
Window Genie's services include window cleaning, window tinting, pressure washing, gutter clean-out, dryer vent clean-out and more.
###