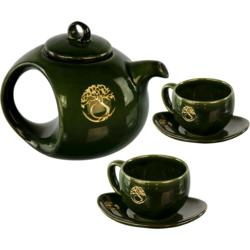 Colebrook, NH (PRWEB) April 14, 2013
The New Age Source, premier metaphysical store, debuts additions to its extensive inventory of new age products online. The New Age Source specialized in the highest quality spiritual gifts to provide inspiration along the path to fulfillment.
The store additions include exquisite tea sets and an exotic jewelry line ideal for Mother's Day. The lovely 5 piece tea sets include: a tea pot (available in three-cup and four-cup capacities), two cups, and two saucers. Each piece is carefully crafted from the finest ceramic containing outstanding metaphysical properties detailed in the beautiful inscriptions on each pot, mug, and saucer. The New Age source also offers standalone mugs for purchase.
Another Mother's Day favorite, jewelry, is also a part of the leading online metaphysical store's new lineup. The store's new evil eye jewelry wards off evil spirits and protects the wearer. The New Age Source has placed the evil eye talisman on each of its affordable bracelets, necklaces, and key chains. The store has added more than 20 new designs in a variety of colors.
Other additions include bamboo wind chimes, mini brass figurines, rayon wall hangings and salt lamps. The bamboo wind chimes are offered in 17 designs. A wind chime is a perfect addition to gardens for the spring and summer months. Each chime produces a unique sweet melody determined by its design. The chimes provide a relaxing ambiance for outdoor meditations. The New Age Source offers picturesque brass figures for the home and garden. Each figurine has an antique finish to illuminate the meticulous detailing. The mini statutes are designed in the likeness of deities across religions. They offer peace among other healing qualities. The New Age Source's rayon wall hangings are printed on quality fabric and can easily be placed on any rod for hanging or attached to walls directly. The delicate tapestries depict deities from many religions. Salt lamps bring a tranquil feeling to all rooms. They are most renowned for their purifying qualities. The salt lamps emit negative ions into the air that attack positively charged particles to act as a natural air purifier. The stunning lamps feature a polished salt bowl filled with natural salt chunks. To purchase these product visit The New Age Source.
About The New Age Source:
The New Age Source is a leading retailer of high quality metaphysical products. The New Age Source strives to offer each customer personalized inspiration to assist them on their path to fulfillment. The New Age source offers a variety of spiritual lamps, incenses, crystals, dream catchers and much more. For a full list of products and to learn more about The New Age Source please visit http://www.thenewagesource.com.