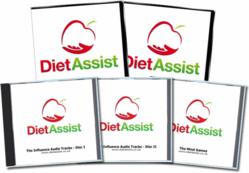 Many people resign themselves to being overweight because it runs in their family. But the underlying message here is clear - you are not a slave to your genetics. You have some control
London, UK (PRWEB UK) 16 April 2013
According to the study, published in the journal 'Cell Reports', people who underwent gastric bypass surgery and lost weight experienced changes in gene expression.
These changes allowed them to start burning fat and storing sugars properly, decreasing their risk for diabetes.
The findings suggest that the environment - in this case food intake or weight loss - can affect gene expression through this mechanism.
Lead researcher, Juleen Zierath said the result was surprising because the orthodox view is that chemical marks on DNA are fixed.
Co-creator of DietAssist, Rob Woodgate, says, "Many people resign themselves to being overweight because it runs in their family. But the underlying message here is clear - you are not a slave to your genetics. You have some control."
"Although the study focusses on weight loss through surgery, it demonstrates the body's remarkable ability to adjust and adapt, and shows that the damage from obesity can be reversed just by losing excess weight."
"At DietAssist, we teach people how to lose weight more easily by taking back conscious control of their eating habits and behaviours."
The DietAssist programme is the result of over 20 years experience of helping people to lose weight effectively, and uses the latest psychological techniques to avoid the self sabotage and demotivation that dieters commonly experience.
The DietAssist programme gives dieters a deep understanding about how their mind works, and how to use it to their advantage – whatever diet or sensible eating plan they are using. It aims to help them to take back control over their eating behaviours and teaches them to act more appropriately in relation to food and eating in the future.
The DietAssist programme helps dieters strengthen their motivation and resolve, and creates the optimum psychological state for success.
People wishing to learn more about how DietAssist can make losing weight easier can join the 30 Day Weight Loss Challenge, in which members of the public can receive 30 days access to the DietAssist weight loss programme for just £1 so they can see how well it works in practice.