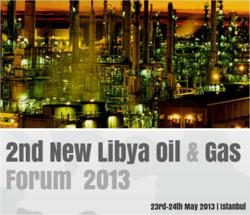 It's an IRN summit!
London, UK (PRWEB UK) 15 April 2013
Following the announcement that the New Libya Oil & Gas Summit is coming back for the second annual edition, the 2nd New Libya Oil & Gas Forum will be welcoming as a keynote speaker the chairman of the National Oil Company of Libya, Dr Nouri Berruin, who is going to give the opening speech about the oil and gas landscape and his vision of the Libyan oil and gas sector in the coming years.
The 2nd Annual New Libya Oil & Gas Forum will be held at the 5* hotel, Elite World, in Istanbul, Turkey on 23rd and 24th May by the British global summits organisers IRN and Oliver Kinross and the Libyan Barcah Group. The meeting will be held with the support of the NOC of Libya and will bring more than 300 delegates, high level representatives from international oil companies and the NOC companies, governmental officials and energy experts.
With the Libyan oil and gas production facing huge development, the country is in need of investors that will bring their expertise in the hydrocarbon industry to unfold the vast potentials of the country with the largest natural reserves in Africa.
This forum is going to provide a high quality platform that will explore all the issues concerning the oil and gas industry of the region, introducing the delegates to business development and new ventures opportunities.
Some of the international key representatives that already confirmed their participation are Sipex, Sigma Petroleum, BB energy, Socar, Total, Noble Energy, Exxon Mobil, Wintershall and many more others.
For more information please get in contact with IRN at XeniaS(at)irn-international, +44 20 7111 1615 or visit the website.