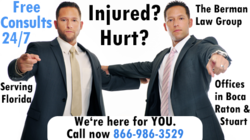 Tallahassee, Florida (PRWEB) April 12, 2013
The Berman Law Group is announcing a new and targeted personal injury lawyer website for the Tallahassee, FL, area, which will provide legal consultation services for prospective clients in need. The website can be found here: http://personalinjurylawyertallahasseeflorida.com/ or you can also call their local Tallahassee hotline at (850) 391-7755. This allows anyone who has been hurt or injured to get easy access to the legal care they need. The Law Offices of Berman and Berman are Tallahassee, Florida, injury and accident attorneys who are dedicated to the community and fight for their clients' rights in and out of court, which is not always easy, but is their passion. They stand behind their clients and handle their legal issues to the best of their ability as a Florida law firm.
As Tallahassee accident lawyers, the Berman Law Firm is available to assist in personal injury cases, wrongful death, product liability, workers compensation, auto accidents, motorcycle accidents, workplace accidents, family law, criminal law, toxic torts, spinal cord injuries, traumatic brain injuries, burns, amputations, and more.
The Berman Law Group is available for consultations around the clock 24 hours a day and 7 days a week. They know that time is not on their side when it comes to injury cases, so they keep their phone lines open at all times, because accidents do not always happen during business hours. To get in touch with them you can call their hotline to speak with a legal case specialist at 1-877-529-8995
The Tallahassee injury lawyer service is available to all callers, including those callers who speak English, Spanish, and Portuguese. The purpose of the Tallahassee injury lawyer hotline is to help all those who have been injured in a traffic accident or workplace injury seek the justice and compensation that they deserve. The Berman Law Group is also experienced in fighting medical cases for victims who have been allegedly harmed by dangerous pharmaceutical products, including: Yaz/Yasmin/Ocella, Mirena, Pradaxa, Granuflo, Byetta/Januvia/Victoza, NuvaRing, Propecia, Paxil, Zoloft, Zocor, Crestor, Avandia, Accutane, and many more. Call 1-877-529-8995 for more details.
The Berman Law Firm is also able to help with medical malpractice suits. They have experience in helping their clients get compensation for these types of cases: Avaulta Vaginal Mesh, Fosamax Femur Fractures, DePuy Pinnacle Hip, Zoloft Birth Defects, Actos Bladder Cancer, Unnecessary Stents, Vaginal Mesh Lawsuits, Zimmer Hip Implant Recall, Lexapro Birth Defects, and more.
To learn more about the Berman Law Group and how they can help you fight for justice, you can visit their website: http://personalinjurylawyertallahasseeflorida.com/ or call their local Tallahassee lawyer hotline at (850) 391-7755 or you can call their toll free line at 1-877-529-8995. The Berman Law Group has offices in Tallahassee and Stuart, Florida, but is able to help clients all over the state of Florida, including Tallahassee.