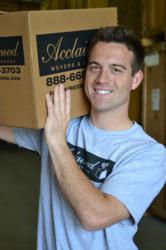 Pacific Palisades, CA (PRWEB) April 14, 2013
The premier residential and commercial moving company in California, Acclaimed Pacific Palisades Movers, has just instilled a new training program for its luxury movers. The new program, which focuses on professionalism, as well as, the art of packing and moving any item, has revolutionized the way that Acclaimed trains its movers. Utilizing video, along with hands-on training, the program ensures that Acclaimed has the nation's best luxury movers. The addition of the new training regime, along with the recent addition of new trucks, has helped Acclaimed remain the go-to choice for moving solutions in the Pacific Palisades. Acclaimed Pacific Palisades Movers is a full-service, fully comprehensive, luxury moving company.
For ten years Acclaimed Pacific Palisades Movers has helped local homes and businesses relocate across town, across the United States, and even across the world. The company excels in any environment, and has extensive experience with houses, offices, apartments, warehouses, condos, restaurants, retail facilities, and more. Each of their Pacific Palisades movers is a dedicated, uniformed professional, who goes through the company's innovative training program to ensure that they can wrap, pack, and move literally any item. Acclaimed packing service will protect any item, and includes the disassembly and reassembly of items that require it, as well as, the construction of custom moving crates for all electronics, flat-screen TVs, artwork, antiques, and other valuable or fragile items. All transportation is conducted by Acclaimed's own top-of-the-line trucks, which are equipped with GPS and run on an eco-friendly bio-diesel fuel. If storage is a necessity, Acclaimed's Pacific Palisades movers have space available for long-term and short-term storage in their massive, climate-controlled, secure, storage facility.
Acclaimed Pacific Palisades Movers is committed to making a lifelong customer out of each person that they help, by providing a top quality service at an economical rate. The company has quickly become synonymous with affordability, efficiency, and reliability in the moving industry. The addition of the new training program only furthers Acclaimed's ability to meet and exceed the local, luxury moving needs. When it's time to move a home or business in the Pacific Palisades, it's time to get a free, no-obligation quote from Acclaimed Pacific Palisades Movers. We'll get you moving.