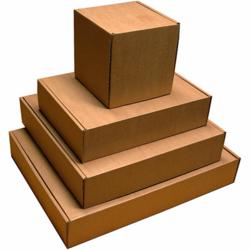 Davpack has been busy designing and stocking up on a new range of parcel postal boxes which not only conform to the new Royal Mail dimensions, but maximise pack space within each postal category
(PRWEB UK) 15 April 2013
On 2 April, the Royal Mail introduced its new pricing structure for the delivery of parcels in the UK. The Large Letter size is unchanged, but the packet and parcel formats have been replaced by new categories, called 'small parcel' and 'medium parcel'.
To qualify as small, a parcel needs to weigh no more than 2kg and measure no more than 450 x 350 x 80mm, or 160 x 160 x 160mm; postal tubes up to 450mm long with a diameter of up to 80mm also count as small parcels.
A medium parcel is defined as measuring up to 610 x 460 x 460mm, with a weight of no more than 20kg. A postal tube with a length of up to 900mm also qualifies (as long as the length and twice the width do not add up to more than 1040mm).
In anticipation of the impact of these changes on its many mail order customers, packaging supplies company Davpack has been busy designing and stocking up on a new range of parcel postal boxes which not only conform to the new Royal Mail dimensions, but maximise pack space within each postal category.
Building on the popularity of its Post Saver large letter sized boxes, Davpack has developed a new Parcel Saver range, comprising fold over small parcel boxes and medium parcel corrugated boxes.
Davpack's Small Parcel Saver Boxes are made out of new M flute corrugated cardboard, which is just as robust as standard B flute board, but significantly lighter and thinner. At the same time, Davpack has also extended its range of postal tubes, with new sizes that again match the maximum permissible dimensions for small parcels.
Davpack's Medium Parcel Saver Boxes are double wall cardboard boxes, designed to the maximum dimensions for sending up to 20kg by Royal Mail post.
Davpack's Managing Director Barney Byfield explained why the company has taken the lead with this initiative: "We already have perhaps the biggest selection of postal packaging products in the UK, and supply thousands of UK businesses, many of which sell online or remotely.
"When Royal Mail announced the changes, it became clear that businesses will be severely penalised if they inadvertently exceed the maximum dimensions for small parcels. For example, if a company sends 1.5kg parcels 2nd class on a standard business account, they now pay £2.40 more per parcel when they exceed the small parcel size. Even a relatively small business can dispatch 20 parcels a day, so you're talking about a potential postage saving in the region of £1,000 per month, just from getting the packaging right. Our new Parcel Saver range help companies to do just that and realise these savings."
For advice on the new pricing bands, and to get your packaging right, call Davpack on 0844 800 9844.