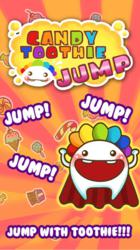 Wonderful game, my kids love this game so much and sometimes I play, too. - Kallis12
London, Ontario (PRWEB) April 22, 2013
Kids and adults alike love anything to do with candy, ice cream, and sweets in general. Slightly Social, one of Canada's top mobile game companies, is looking at how to make games fun for all ages and this is a great testing grounds here in Canada, where everyone old and young alike seem to love their sweet treats.
Slightly Social and mobile gaming partner MediaSoft actually threw caution to the wind on this latest iPhone app release: A Candy Jump Kingdom (Ice Cream Cavity Crush). "Brushing those pearly whites and eating candy? How can that be fun?" says the Canadian Mobile App Developer and CEO Brad Mills. Mills goes on to say, "Slightly Social was looking at the concept of injecting a game character (Toothie) as a positive healthy role model to teach new generations of young gamers that it can be fun to, pardon the pun, have your cake and eat it too." To sum up, the lesson is simple, eating candy and ice cream is an enjoyable part of life, but remembering to brush afterwards, can pay dividends.
Slightly Social has taken the concept a bit further by making Toothie cool by giving him a cape. So, he would be similar to a crime fighter, only in this case he is a cavity fighter. Throw in a bit of candy and chocolate for good measure and we have an adventure thru the cavity-laden Ice Cream Kingdom that we hope sister and brother, and mom and dad alike will all enjoy.
Follow Toothie as he cascades cautiously up a colourful pathway to overpower and crush careless cavities along the way. The game controls are simple to use, and the more toothpaste used, the higher the elevation to defeat the gross cavities. Collecting sweets and eating candy, chocolate and ice cream is fun in the real world, but the same goes here. Don't forget to brush those teeth afterwards.
Once again, following the free iPhone game download model that was established in 2013, Slightly Social hopes to leave gamers all ages smiling from ear to ear as they reach great heights playing "A Candy Jump Kingdom".
iTunes Download Link:
https://itunes.apple.com/us/app/candy-jump-kingdom-ice-cream/id604747688
About:
Slightly Social a Canadian Mobile Game Developer making high end games for fun and friendly competition. Having the most talented and app-savvy gaming developers on the team keeps them ahead of the game development business here in Canada. Stay tuned for many new releases coming out in 2013.
Connect with Slightly Social on Facebook:
https://www.facebook.com/slightlysocial
Slightly Social Website:
http://SlightlySocial.com