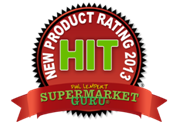 "We are really excited and proud of the overwhelming success of our Bite Size Divine Mint chocolate. This achievement encourages us to provide more quality raw chocolates which are helpful for human health."
Los Angeles, CA (PRWEB) April 12, 2013
Los Angeles, CA, April 11, 2013: Righteously Raw Chocolate, an USA based innovative chocolate brand manufactured by Earth Source Organics has announced that its Bite Size Divine Mint chocolate has recently won the "PRODUCT HIT" seal from the Supermarket Guru, Phil Lempert. Lempert has given a high rating to this delicious and nutritious piece of chocolate.
To reward a product a PRODUCT HIT seal and to provide a review on it, Phil Lempert considers eight criteria: taste, health value, ingredients, preparation, appearance, packaging and sustainability, where Divine Mint received a high score in all of the criteria. Phil also provided Righteously Raw Chocolate an outstanding score and praised it highly for its upper standard of quality.
Audrey Darrow, the President of Earth Source Organics said, "We are really excited and proud of the overwhelming success of our Bite Size Divine Mint chocolate. This achievement encourages us to provide more quality raw chocolates which are helpful for human health."
Righteously Raw Chocolatesare sold throughout the U.S. in over 1300 health food grocery stores, wine shops, coffee shops, wellness centers, spas and much more. All of the Righteously Raw Chocolate products are certified organic, vegan, kosher, gluten free, Non GMO and are made in an allergen free facility with no refined sugar. Bite Size Divine Mint is the latest addition of Righteously Raw's product line.
After the debut of this product at Expo East in 2011 along with their Chocolate Dipped Macaroons, a powdered beverage called Rawcholatl and our Pure Dark and Synergy Spice Bites Size sales have soared. These Bite size pieces are one of the only comparable products on the shelf today that are made in an allergen free facility. With an MSRP of $.79-$.84 a piece it is a fast seller whether it is in a health food store or grocery store, at the cash register of a convenience store or wherever grab and go healthy products are sold.
About Righteously Raw Chocolates:
Righteously Raw Chocolate is a special brand of renowned certified organic food manufacturing company, Earth Source Organics. Based on southern California, the company is on a mission to aid the millions of customers lead healthy and happy lives by serving them organic and delicious foods. Earth Source Organics is also the proud distributor of Vigilant Eats Gluten-Free Cereal.
For details, please visit the official website http://www.righteouslyrawchocolate.com/ or contact with Audrey Darrow at 760-734-1867 or email her to info(at)earthsourceorganics(dot)com.