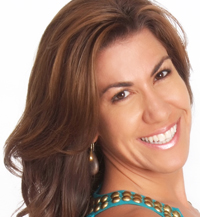 I see so many entrepreneurs stepping over thousands of dollars in missed opportunity every day," Sasevich said. "But it doesn't have to be this way.
San Diego, CA (PRWEB) April 12, 2013
Heart-centered entrepreneurs, coaches, and trainers who are committed to high-quality content and who also want to experience solid sales results – without feeling "salesy" – are invited to Queen of Sales Conversion Lisa Sasevich's 3-day live event, Speak to Sell Bootcamp, May 16-18 in Las Vegas. Sasevich is sharing her tips for creating a signature talk, building irresistible offers that sell, and gaining the confidence that comes with being prepared. Tickets for the event are available now.
"I see so many entrepreneurs stepping over thousands of dollars in missed opportunity every day," Sasevich said. "But it doesn't have to be this way. No more stressful, panicked late nights struggling to create your talk and offers for your gig the next day. No more wondering when you're going to finally get out there with your gifts and be seen!"
Because she specializes in taking advantage of what she calls "the most powerful marketing tool around" – speaking – Sasevich has designed this event to teach heart-centered entrepreneurs to create a Signature Talk that effortlessly sells their core products and services – without them feeling "salesy."
Entrepreneurs who enroll in this 3-day live event learn how to:

Craft irresistible offers that sell
Leverage their time and effort far beyond 1:1 sales
Implement insider secrets to keeping the sales they make
Gain instant credibility with an audience, and win trust quickly
Maximize their speaking efforts beyond making money and gaining clients (many speakers miss this and leave thousands of dollars behind)
And more
"Free speaking is where you'll find the big bucks," Sasevich said. "Not, as you might have thought, through being paid to keynote. Speaking to sell back-of-the-room products and services … that's where the big money is at. I've evaluated this fourteen ways from Tuesday, and there's really nothing better!"
For more information about this event, visit: http://www.lisasasevich.com/goldmine
Recently honored as one of America's Top Women Mentoring Leaders by WoW magazine, Lisa Sasevich, "The Queen of Sales Conversion," teaches experts who are making a difference how to get their message out and enjoy massive results, without being "sales-y."
Recognized sales expert by Success Magazine, and as one of 2012's fastest growing independently owned companies by Inc. Magazine, Lisa delivers high-impact sales-closing strategies for turbo-charging entrepreneurs and small business owners to great profits. According to best-selling author Brian Tracy, "Lisa Sasevich is one of the greatest discoveries in America today!"
After 25 years of winning top sales awards and training senior executives at companies like Pfizer and Hewlett-Packard, she left corporate America and put her skills to test as an entrepreneur. And in just a few short years, Lisa created a multi-million-dollar home-based business with 2 toddlers in tow. Lisa is the undisputed expert on how to make BIG money doing what you love.