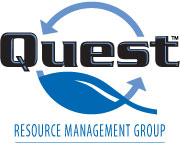 "Quest helped create synergies between the Legends, the City of Frisco, and multiple other businesses, as we found new and fun ways to positively impact our environment." -Malcolm K. Farmer, Texas Legends, Senior Vice President
Frisco, TX (PRWEB) April 16, 2013
At the April 6th Texas Legends game held at the Dr Pepper Arena in Frisco, Quest Resource Management Group hosted Zero Waste Night and partnered with the Texas Legends and the City of Frisco Environmental Services division to encourage the local community to minimize their trash and maximize their recycling.
When compared to other home games, the night's promotion increased recycling 17-fold, increased game attendance for the Legends by 21% and ultimately educated the local community on the benefits of recycling.
Quest also helped offset the emissions produced during the game by planting red and live oak trees in Frisco's Warren Sports Complex on Friday, April 12th. "Quest was excited to participate for the second year in a row with the Texas Legends and City of Frisco in ZERO Waste night. It was again another huge success for all of us to help promote recycling awareness to the community and the arena," said Quest CEO, Brian Dick. "We [Quest] are excited to continue our tradition of planting trees at Warren Park to help off-set the carbon emissions from this night as well. This was a great team effort by everyone!"
Malcolm K. Farmer, Texas Legends senior vice president, said the night was a tremendous success. "This was our second consecutive year partnering with Quest on this initiative, and it has become one of our most popular theme nights. Fans wore their green t-shirts and the volume of waste that was recycled was impressive. Quest helped create synergies between the Legends, the City of Frisco, and multiple other businesses, as we found new and fun ways to positively impact our environment," said Mr. Farmer. "The event brought great awareness to this cause—as we saw people not only wearing the 'Green Night' jerseys from last year, but also received many positive comments about the unique uniforms worn by our players this season. We look forward to continuing to grow 'Zero Waste Night' in the future!"
About Quest
Quest Resource Management Group is a full service environmental consulting and management company, headquartered in Frisco, Texas. Quest helps Fortune 500 companies to maximize profits and mitigate risks, while minimizing their ecological footprints. Quest clients span across all key industry segments, including food services, hospitality, healthcare, manufacturing, construction, automotive aftermarket and fleet industries. Quest Resource Management group provides North American clients with comprehensive sustainability programs, innovative recycling solutions and proven environmental protection.
Quest prides itself in delivering targeted solutions exclusively tailored to the needs of each respective client. Quest also offers Return on Investment (ROI) and Return on Sustainability (ROS) based road maps to help clients design actionable programs for managing RFPs, defining operational protocols, creating and implementing training programs, and defining best practices. Quest's Sustainability Intelligence Dashboard™ helps clients improve decision making by extracting greater insights through unsurpassed business intelligence.
###