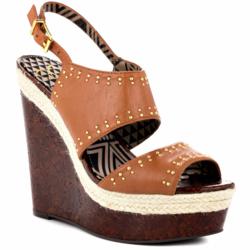 myShoes.com is the perfect source to find the right pair of shoes for any occasion including prom.
Santa Monica, CA (PRWEB) April 16, 2013
For those beginning the hunt for the perfect shoes to complement their prom dresses this spring, a solution has arrived – the myShoes.com ShoeStylist. Whether searching by style, heel height, color, brand, materials, price range, or all of the above, myShoes.com offers the luxury of a personal stylist on any budget.
myShoes.com features top prom-relevant brands like Nina, Chinese Laundry, Steve Madden, Jessica Simpson, Shiekh Shoes and more. Looking to score a deal? No problem, as available coupon codes from PromotionalCodes.com surfaces in all shoe search results.
"myShoes.com is the perfect source to find the right pair of shoes for any occasion including prom," said myShoes.com Product Marketing Specialist Ashley DeCaro. "With discounts you can't find anywhere else and thousands of products from the best brands around, shoppers will never be disappointed with what they find."
Rhinestones, neon, animal print – oh my! No matter what you're looking for to wear to prom, myShoes.com is a one-stop shop to find the shoes of your dreams. Some girls want wedges to avoid sinking into grass, others want to be comfortable and some want to be the shoe-envy of everyone, no matter the pain.
When filtering shoe options on myShoes.com, users can compare retailers' prices, whether or not free returns are available, shipping rates and more. For girls who know the exact shoes they want to wear to prom, they can search for the retailer who offers the best price and shipping options.
One lucky lady could even win her prom shoes as every month myShoes.com gives away a fabulous pair of shoes to those who sign up for the myShoes.com weekly newsletter. Not only will entrants learn about the latest styles and shoe deals first by signing up, but they'll also have a chance to win the "Geno" wedge by Jessica Simpson from Heels.com.
For more information about this month's giveaway or to test out the ShoeStylist and find your dream shoes at any price, visit: http://www.myShoes.com or find us on Facebook and Twitter.
About myShoes.com
myShoes.com was created to make online shoe shopping simple, fun and fabulous. This innovative shoe-shopping platform helps you find your perfect pair of shoes at the best price from hundreds of retailers – all according to your personal style and all in one place. The site is developed by Santa Monica-based SurfMyAds.com, Inc., which also owns and operates PromotionalCodes.com, Coupons.ca, Codes.co.uk, Codes.de, CouponWinner.com and PromoCodes.com. For more information, visit SurfMyAds.com.