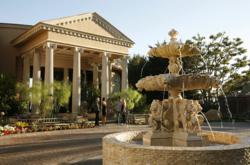 Malibu, CA (PRWEB) April 16, 2013
On Tuesday, April 9th, 2013 The Miami Herald reported that the rate of illegal drug use rose sharply among the Baby Boomer generation over the last 10 years. The National Survey on Drug Use and Health, found that between 2002 and 2011 cocaine, methamphetamines, marijuana, and heroin use tripled among 55 to 59-year olds and almost doubled among 50 to 54-year olds.
Also on the rise is prescription drug abuse among that same demographic. Primary care physicians report less face time spent with patients and are often overly inclined to write a prescription rather than have a more in-depth conversation to assess each patient's situation.
In the state of Florida, the rate of prescription drug abuse among Baby Boomers seeking treatment jumped from 15% in 2011 to 30% by 2011. The state has long been favored by retirees, and Baby Boomers now make up 22% of the state's total population.
Unlike much older adults – ages 75, 80, and above – Baby Boomers grew up amid the cultural changes of the 1960s and 70s with a more permissive societal attitude toward illicit substances. For some, that generation gap is substantial, leaving Boomers without a social outlet to seek guidance and counsel for the spiritual ills they may be experiencing.
Substance dependence issues have not changed too drastically since the middle of the last century, but approaches to treatment have evolved significantly, with more progressive approaches to addiction treatment available, including holistic methods that focus on the overall wellness and happiness of the individual. Helping to push that evolution are new tools, strategies, and holistic treatment methods accessible for people seeking help.
"Baby boomers grew up differently than their parents," said Chris Prentiss, co-founder of Passages Addiction Treatment Centers. "The alumni network at Passages' offers graduates the opportunity to stay connected with people who understand the journey it has taken them to arrive at our doorstep. For many of our alumni, the choice to walk a different path came about after years of making destructive choices. I've personally witnessed the power of transformation that our graduates have attained. It's inspired and inspiring."
At Passages Malibu - Addiction Ends Here™
About Passages Malibu & Passages Ventura:
Father and son team Chris and Pax Prentiss founded Passages Malibu in 2001. Its second location, Passages Ventura, first opened its doors in 2009. The two alcohol and drug abuse treatment centers offer an alternative to the 12 step/AA model of addiction treatment by utilizing a holistic program that focuses on the underlying issues of substance dependency, rather than attributing addiction to an incurable disease.
Both Passages Malibu and Passages Ventura accept insurance and each have earned the coveted Joint Commission (JCAHO) accreditation, which has only been given to 6% of the nation's behavioral health treatment programs.
Passages Malibu was named the #1 treatment center in the world by Healthcare Global and one of the "Most Luxurious Places to Dry Out" by Forbes magazine. The co-founders are also authors of an acclaimed series of addiction treatment books, including their groundbreaking, flagship title, The Alcoholism & Addiction Cure.
For general inquiries about treatment, contact: 866-233-1753.
For media inquiries, contact:
press(at)passagesmalibu(dot)com