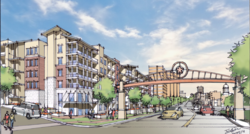 AUSTIN, Texas (PRWEB) April 15, 2013
Pre-leasing began April 1, 2013 for Eleven, a new East Austin apartment community. The development consists of 257 units in a six-story podium-style building located at the gateway to the East End Cultural Heritage District. The Eleven pre-leasing office is housed in the historic Haehnel Building on East 11th Street.
Located in the heart of East Austin, Eleven offers its residents an ideal home and community by combining work and play in one location. The community offers spectacular views of the downtown skyline, close proximity to the city's growing business district, as well as nightlife, dining and outdoor activities. Eleven is located in one of Forbes' "Hippest Neighborhoods," near some of East Austin's most popular restaurants including Franklin Barbecue, Hillside Farmacy and the historic Victory Grill. Residents of Eleven will be able to enjoy the perks of the burgeoning neighborhood, while living minutes away from the Red River Music District, Sixth Street and Lady Bird Lake.
Thanks to a growing job market and the introduction of several new industries to the area, Austin recently was named the second Best Performing Metro City in the United States, according to a study by the Milken Institute. With strong job creation and the influx of thousands of people to the city, the demand for multi-family housing in Austin has grown dramatically. In fact, rental occupancy rates in Austin exceed 97 percent according a Feb. 23, 2013 Austin American-Statesman article citing Charles Heimsath of Capital Market Research.
Prior to opening in the summer of 2013, Eleven seeks to engage local residents and the neighborhood with a photo contest via the social networking service Instagram. Now through April 30, 2013, participants can use the hashtag #11lenses to submit up to 11 photos that demonstrate a unique view of the city, neighborhood and culture. The 11 winners of the contest will receive $200 and full credit for their work. Winning photographs will be displayed online and throughout the apartment community. Submissions may be viewed at http://www.elevenaustin.com/contest.
Eleven offers a variety of living spaces to fit all lifestyles, starting with 416-square-foot studio, a 678-square-foot one bedroom, and a 1,020-square-foot two bedroom apartment. The building's native stone and stucco exterior is a modern design by award-winning Texas-based firm BGO Architects. Interiors were designed by Kathy Andrews Interiors, an award-winning firm specializing in multifamily properties.
Inspired by city living, Eleven's common amenities include a state-of-the art athletic facility, clubhouse with billiards, shuffle board, and an open gaming area. The community also offers a business center with a conference room and two private office spaces. Additionally, a swimming pool, lounge area with covered cabanas, courtyard with a life-size chessboard and grills allow residents to enjoy the beautiful grounds of the community. High above the neighborhood, the Eleven rooftop lounge offers one-of-a-kind views of the Texas State Capitol and downtown Austin. In keeping with the walkability and alternative transportation needs of Austin, a bike repair workshop will be located onsite.
The Haehnel Building that will serve as the pre-leasing office for Eleven was built in 1883 and served as both a residence and a grocery store. The building had been vacant for a number of years before it was purchased and rehabilitated by the Austin Revitalization Authority in 2001. Prospective residents who would like to view leasing plans and learn more about the community should visit http://www.elevenaustin.com. The pre-leasing office's hours of operation are Monday through Friday 9 a.m. to 6 p.m., Saturday from 10 a.m. to 5 p.m. and Sunday from 1 p.m. to 5 p.m.
Eleven is being developed by Austin-based Forestar Group in partnership with Canyon Johnson Urban Fund. Alliance Residential Company is handling leasing and management for the community.
For more information and project updates from Eleven, visit http://www.elevenaustin.com.
About Eleven:
Eleven is a mid-rise apartment community poised to open at the gateway of East Austin's 11th Street just east of Interstate 35. Designed with East Austin in mind, the project offers studio, one- and two- bedroom apartments with island kitchens, 10-foot ceilings and rich vinyl wood plank floors. Eleven boasts amenities that include an on-site bicycle workshop, swimming pool, pet care station, and rooftop lounge. A full recreational courtyard with life-size chess, bocce ball and grills allow residents to enjoy the outdoors at Eleven. The lead developer of Eleven is Austin-based Forestar Group. Pre-leasing will begin in April 2013 with first units available in the summer of 2013.
Links:
http://www.elevenaustin.com
http://www.facebook.com/11eastaustin
http://www.twitter.com/11eastaustin
http://www.instagram.com/11eastaustin