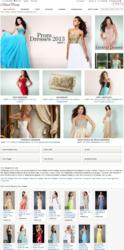 Long Island City, New York (PRWEB) April 14, 2013
MissesDressy.com, a leading designer dress online retailer, made a new version of their website available to the public this week. The redesigned site features more robust features, a sleeker appearance, and easier to navigate architecture, all making the online destination more accessible than ever.
Through a complete overhaul of the site's front end design, and multiple improvements for increased functionality on the back-end, the company hopes to advance in to the next stage of its development and expand upon the continued success of 2012, the most lucrative year for the upstart company to date.
The site provides an unmatched catalog of dresses for special events and everyday by the industry's top designers, including Jovani, Sherri Hill, Alyce Paris, Mac Duggal, and a long list of others. MissesDressy hopes that its new, streamlined navigation will ensure all shoppers will be able to find the exact dress they are looking for, no matter what the occasion, with ease.
Customers can browse collections of dresses by styles like cocktail and evening, by occasions like Weddings or Prom, or by any specific designer of their choosing. MissesDressy also offers a rapidly expanding fashion accessories section, featuring designer handbags, lingerie, shape-wear, and evening shoes -- all perfect choices for putting the finishing touches on any dress ensemble.
According to Anthony Colarusso, Online Marketing Director for MissesDressy.com, "Our goal is to have the most user friendly, and easy to navigate shopping experience for designer dresses on the web; We believe all the work that went into this massive redesign brings us closer than ever to making this goal a reality."
The website is also available for international markets in seven different foreign language variations, including Spanish, Russian, German, French, and Arabic. Redesigns of all of these websites, which will improve the experience for consumers in each international market, are planned for the months ahead.
Visit the new MissesDressy at http://www.missesdressy.com.