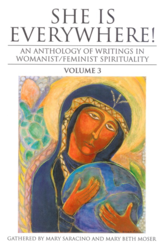 Palo Alto, CA (PRWEB) April 15, 2013
Sofia University's (formerly Institute of Transpersonal Psychology) Center for the Sacred Feminine and Women's Spirituality MA Program hosted their annual celebration honoring Enheduanna's birthday. Enheduanna, Sumerian High Priestess to the goddess Inanna, is the first writer of record, circa 2350 BC.
Each year Sofia University offers this event created in 2000 by Serpentina, a collaboration to support women-centered research and scholarship for everyone which celebrates the Sacred Feminine in the 21st Century (http://www.serpentina.com). The event recognizes one or two distinguished authors in women-centered literature and includes communal prayer, music and ritual.
This year, on Enheduanna's 4363rd birthday, authors Mary Beth Moser and Mary Saracino were recipients of the 2013 Enheduanna Award for Excellence in Women-Centered Literature. Both women were co-editors of She is Everywhere: An Anthology of Writing in Womanist/Feminist Spirituality, Volume 3.
Mary Beth Moser holds an M.A. in Women's Spirituality and a Ph.D. in Philosophy and Religion from the California Institute of Integral Studies in San Francisco. She is the author of Honoring Darkness: Exploring the Power of Black Madonnas in Italy (Dea Madre Publishing, 2008) and other publications.
Mary Saracino is a novelist, poet, and memoir writer. Her novel, The Singing of Swans (Pearlsong Press, 2006), was a 2007 Lambda Literary Awards Finalist. As founder of MOTHEROOT, Mary leads workshops and embodied art-making and creative writing classes centered on the Dark Mother/Divine Female.
For more information about Mary Beth Moser, visit: http://home.comcast.net/~deamadre/index.htm.
For more information about Mary Saracino, visit: http://www.marysaracino.com.
Judy Grahn also won a surprise Serpentina Enheduanna Award for her memoir, A Simple Revolution (Aunt Lute Press, 2013).
Past recipients of the Serpentina Enheduanna Award include: Betty Meador for Inanna, Lady of Largest Heart; Lucia Chiavola Birnbaum for Dark Mother; Charlene Spretnak for Missing Mary; Vicki Noble for The Double Goddess; Annette Williams, Karen Villanueva and Lucia Chiavola Birnbaum for She is Everywhere 2; Marguerite Rigoglioso for The Cult of Divine Birth in Ancient Greece; D'vorah Grenn and Xochipala Maes Valdez for Talking to Goddess; Laura Amazzone for Goddess Durga and Sacred Female Power and Patricia Monaghan, editor of Goddesses in World Culture.
About Sofia University
Founded in 1975, Sofia University (formerly the Institute of Transpersonal Psychology) is a private, non-sectarian university accredited by the Western Association of Schools and Colleges. For over 35 years, within the context of scholarship and research, the school has offered transformative education for the whole person, probing the mind, body, spirit connection. As Sofia University, the school is broadening its mission, reaching into multiple disciplines and adding undergraduate study. For more information, visit http://www.sofia.edu.