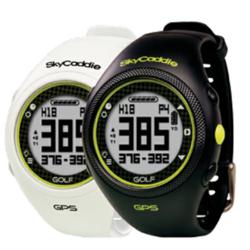 The SkyCaddie Watch promises convenience and accuracy unmatched by other golf GPS watches.
Jackson Hole, WY (PRWEB) April 16, 2013
Online golf retailer, InTheHoleGolf.com is offering golfers throughout the U.S. a chance to win the new SkyCaddie GPS Watch from SkyGolf. Applicants are encouraged to sign up at http://www.intheholegolf.com/monthly-contest.html. The sweepstakes is part of InTheHoleGolf's campaign to give away new gear to golfers and enthusiasts every month.
Several years ago the USGA adopted a rule change to allow the use of laser rangefinders and GPS systems for yardage measurement. Since this rule change rangefinders and GPS have become common tools for golfers to improve their game. Originally these devices were bulky handheld units with software that needed to be downloaded, and courses that needed to be installed. Each course you played would have to be downloaded onto your personal computer, and then with the software provided, this course file would be transferred from your computer to the handheld golf GPS.
As technology has evolved it became apparent this process was far from user friendly. With memory increasing on these devices, they soon were offered with courses preloaded. The latest evolution of the handheld unit is the golf GPS watch. Preloaded and ready to use out of the box, the golf GPS watches are now the preferred choice for golf distance measuring by golfers, due to their ease of use and convenience.
SkyGolf has just released their latest golf GPS, the SkyCaddie GPS Watch. Preloaded with their proprietary ground verified course maps. The SkyCaddie Watch promises convenience and accuracy unmatched by other golf GPS watches.
About InTheHoleGolf.com
Founded in 1998, InTheHoleGolf.com has been serving online golfers worldwide for over 15 years. Based in Jackson Hole Wyoming, InTheHoleGolf.com provides a huge selection of clubs, bags, balls, shoes, apparel, push carts, golf GPS, golf training aids, and accessories. You'll find the latest golf technology from the best brands in the golf industry. InTheHoleGolf.com is a market leader providing excellent customer service, free shipping on orders over $75, and a 30 Day Playability Guarantee.