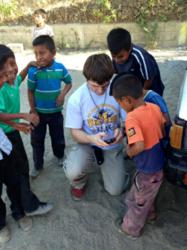 Seward, NE (PRWEB) April 14, 2013
A new department, Intercultural Studies and Modern Languages, has been added to the academic lineup at Concordia University, Nebraska.
Teaching English to speakers of other languages, or TESOL, will be a new major associated with the department. The TESOL major will prepare students to teach English as a second language in settings other than grade schools and high schools. TESOL majors are often desired, for example, as teachers in international contexts, universities, refugee centers or community centers in the United States.
The department will continue to offer the ESL (English as a Second Language) endorsements and concentrations for education students who ultimately wish to teach ESL in a grade school or high school context within the U.S.
Aside from the TESOL major, the department will continue to offer majors in Spanish, and world and intercultural studies. Minors will also be available in ESL, Mandarin, Spanish, and World and Intercultural Studies. Subject concentrations and endorsements are available in these areas for elementary, middle-level and secondary education majors.
American Sign Language will also be offered as a supplemental endorsement for K-12 education levels. The 18-hour program includes courses designed to equip students with elements of ASL grammar and vocabulary, and focuses on interpretation skills.
In addition to the new language and intercultural options at Concordia, the Health and Human Performance department has changed some major areas of study and added three new program minors. The sport studies major has been revised, with emphases now available in both recreation and recreation and sport management. Significant changes have been made to the sport communications emphasis.
According to Dr. Jennifer Janousek, chair of the HHP department, the new degree options will make graduating students more marketable, giving them more opportunities when applying for jobs in the future.
New minor areas of study include recreation, recreation and sport management, and sports psychology. Current courses have been revamped to include a recreation perspective, and five new courses have also been added to the 2013-14 course catalog.
Concordia University, Nebraska, founded in 1894, is a fully accredited, coeducational university located in Seward, Neb. that currently serves over 2,100 students. Concordia offers more than 50 professional and liberal arts programs in an excellent academic and Christ-centered community that equips men and women for lives of learning, service and leadership in the church and world. For more information, visit cune.edu.