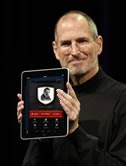 The Scourby Audio Bible, the newest way to access the Oldest Book.
Houston, Texas (PRWEB) April 12, 2013
The King James Bible was first printed in 1611. Until a short time ago, if users wanted to access the KJV Bible, it would have had to be done as it was done in 1611, with a book. However, in the last 10 years, great advancements have been made in technology, both with the internet, mobile devices and application software for those devices.
These advances have led to APP development for the iPad and Android mobile devices. One APP that has been developed for these devices was the King James Audio Bible APP narrated by Alexander Scourby. This coupled with wireless internet systems is making it now possible for churches to set up WYFI systems in Churches, permitting people to log onto the churches server and accessing the churches Sunday online programs which include songs and scripture verses,
Some churches are even providing tablets to people that don't have one and for others who have tablets and mobile phones, they can simply log in from their own devices. This is eliminating the need for paper programs that are placed in church pews. Churches are now embracing this new technology that is permitting users to access the Bible in a whole new way.
Users have stated that being able to use this new technology has been great for Bible Study and for church services, in making the Bible easier to access that ever before. Users also love this newest way to access the Oldest Book. Users have also stated that being able to both hear and read the words from the Bible at the same time has increased their understand and comprehension of what they are reading. Studies have further confirmed that bimodal presentation of the Bible is enabling users to get more out of the Bible than just by reading it or just by hearing it. Being able to do both gives users a whole new light on the Words in the Bible.
More and more churches are getting on board with this new technology as parishioners continue to give increasing positive feedback about incorporating Bible Apps into the church service. Parishioners report that this new application software for their mobile devices permit users to turn those devices into an all new electronic Bible and carry it with them wherever they go, ready for instant access. The all new Bible apps for Android and iPad mobile devices are being used to replace the conventional book Bible as the users Bible of Choice.
Litchfield Associates provides these devices as digital downloads on their website at scourby.com as well as the Bible Mp3 download for Mp3 players and mp3 players.