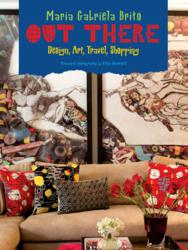 "I personally have so many questions about collecting contemporary art and this is Maria's business—advising her clients on how to start an inspiring and affordable collection." -Gwyneth Paltrow
New York, NY (PRWEB) April 15, 2013
Maria Gabriela Brito, the New York- based interior designer, tastemaker, and authority in mixing contemporary art with home decoration launched her first book "Out There: Design, Art, Travel, Shopping" on April 10, 2013. Venezuelan-born and Harvard-educated, Brito has demystified the art of art collecting, with the objective of creating stunning, unique, and personal spaces, through her company Lifestyling® by Maria Gabriela Brito.
A fascinating look into Brito's personal experiences, and an insider's guide to designing interiors and developing an art collection, "Out There: Design, Art, Travel, Shopping" presents with insight, humor, and flair, the inspirations behind Brito's work and interests. Featuring highlights of her favorite contemporary artists, photographs of eight New York City apartments that she designed, and an extensive address book of Brito's favorite galleries, shops, and hotels worldwide, Out There is a fresh and exclusive look behind the scenes of a passionate and exciting new design authority.
About the Author
Maria Gabriela Brito is an accomplished interior designer, author, curator, tastemaker, and authority on why, where, when and how to display and mix contemporary art and interior design in any environment. She is the CEO and creative force behind of Lifestyling® By Maria Gabriela Brito http://www.mariabrito.com a company that offers a unique approach to interior design by incorporating art into every interior, taking decorating to a new level. Maria and her projects have been featured in design, décor, lifestyle, fashion and business publications worldwide including The New York Times, Elle Magazine, Harper's Bazaar, InStyle, Vogue Mexico, Vogue Latin America, Elle Décor Spain, Gotham and more. Her blog is not only recognized as a well-written and easy way to understand and demystify the worlds of art and design but her articles are often syndicated and quoted in media outlets around the world. Maria has also been a blogger for Forbes.com and has guest-edited Gwyneth Paltrow's famous weekly lifestyle newsletter "GOOP". "Out There" is her first book.
About the Publisher
For the past ten years, Pointed Leaf Press has established itself as a leading publisher of high-quality, photography-driven monographs on personalities from the worlds of design, architecture, fashion, and art. Based in New York City, Pointed Leaf Press has made its goal to create books that stand out, for both their unique content and their matchless design quality.