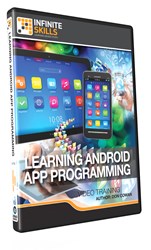 Learn How To Develop Android Apps At Your Own Speed
(PRWEB) April 14, 2013
Software training firm InfiniteSkills Inc. this week released its "Learning Android App Programming Tutorial," a course designed to introduce new and experienced app developers to the Android development system.
Android app development is based in the Java programming language, using the Android Software Development Kit, although other development tools are available.
As of October, 2012, more than 700,000 applications had been created for the Android operating system with more than 25 billion downloads.
InfiniteSkills' Learning Android App Programming Video Training offers a step-by-step guide to beginning app development on the Android System. The course teaches all the tools and techniques necessary to begin app development, and will serve as a continual reference as users navigate the vast and complex Android system.
Learning Android App Programming Tutorial - DVD
Course author Don Cowan has more than three decades of experience in software development, and he has spent the last four years as an Android developer. He has previously written a guide to HTLML 5 Canvas, and regularly blogs and tweets about technology.
Cowan provides an organized and thorough introduction to Android app development, beginning with an overview of the Android system, including the Android Developers Website, the Design Guide, the developer tools bundle, and the Java programming language.
From there Cowan guides users as they construct real-world examples of essential app components, learning to use the platform and system to create elements of user experience.
Several types of components work together to control the flow of work in an app. Elements like activities, services, and content, work in concert with the elements of Java code which create the look and feel of the app.
Along with the essential elements of an Android app, Cowan explains many advanced capabilities of the Android system, including animation and graphics, working with media and the camera, using location and sensors, data storage and database access, and more.
"In each lesson we'll look at the details of how the technology works as well as coding examples to see it in action," Cowan says. "Students will learn how to reference the content of Android websites as well as the course lessons."
Free demo videos and a full list of course contents can be found on the Learning Android App Programming Video Tutorial training page of the InfiniteSkills website:
http://www.infiniteskills.com/training/learning-android-app-programming.html
InfiniteSkills offers its Learning Android App Programming Video Tutorial either as a DVD or a direct download from the company website at a retail price of $99.95. All InfiniteSkills titles and formats are compatible with Mac and Windows operating systems. Shipping is available around the globe. Additionally, InfiniteSkills tutorials are supported by project files which correspond to examples in the videos, allowing users to work alongside experienced instructors right on their computer or iPad.
About InfiniteSkills Inc.
A leader in the field of software training, InfiniteSkills strives to offer the highest quality training available at an affordable cost. InfiniteSkills tutorials are task-oriented instructional videos, teaching complex skills by providing hands-on examples and guiding users as they carry out critical objectives. InfiniteSkills offers a comprehensive range of software titles available as DVDs, digital downloads, and in iPad editions, keeping with company aim of delivering professional training to customers anywhere they want to learn.