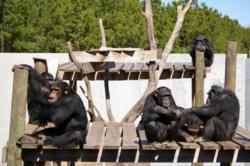 The focus of this year's event will be sustainability, which is important not only for the wellbeing of humans, but also for the natural habitats of chimpanzees
Shreveport-Bossier, LA (PRWEB) April 15, 2013
Chimp Haven will host its Second Annual Earth Day Festival, held in conjunction with Chimpanzee Discovery Day, on Saturday, April 20, 9 a.m.-1 p.m. Located 22 miles southwest of Shreveport, La., in the Eddie D. Jones Nature Park in Keithville, La., Chimp Haven serves as The National Chimpanzee Sanctuary. The annual Earth Day Festival includes opportunities to view resident chimpanzees, as well as food, art and exhibits by local environmental organizations, businesses and artisans. Admission to the festival is free.
Visitors will enjoy live music by AirHeart, as well as activities for the whole family. There will be opportunities to view the resident chimpanzees, new and old, in their natural environment as they forage for food. Guests will also have the chance to talk with staff members about the distinct personalities and natural behavior of the resident chimpanzees. Behind-the-scenes hayride tours will be offered every hour, on the half hour; however, seating is limited so it is recommended to make reservations prior to the event. Cost for the hayride is $10 for adults and $5 for children ages 12 and younger. Additional educational activities include fishing for candy termites, visiting the conservation station, and learning about chimpanzees' habitats and behavior.
Educating the public about conservation is an important component of Chimp Haven's mission. This event allows the sanctuary to serve the community in an educational capacity while providing an example of environmental stewardship.
"The focus of this year's event will be sustainability, which is important not only for the wellbeing of humans, but also for the natural habitats of chimpanzees," Chimp Haven President and Chief Executive Officer Cathy Willis Spraetz said. "As we educate individuals during Earth Day of the importance of developing personal sustainability practices, we also educate them on how to preserve the natural habitats of chimpanzees in Africa from right here in our community."
This event is free and open to the public; however, donations are welcomed. Visitors may consider bringing peanut butter, flavored ice pops, animal crackers, elbow macaroni, instant rice, bagels and applesauce for the chimpanzees. Early arrival is recommended for best viewing. All children must be accompanied by a parent or guardian.
For more information on Earth Day or to RSVP for behind-the-scenes hayride tours, please call (318) 925-9575. For more information on Chimp Haven, the National Chimpanzee Sanctuary, visit http://www.chimphaven.org.