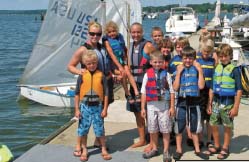 Building confidence and self-reliance through sailing, boat handling, and the art of seamanship
North East, MD (PRWEB) April 16, 2013
North East River Yacht Club offers a weekly summer camp program for junior sailors, ages 7-18. The program encourages young sailors to experience the joy of sailing and teaches the essential elements of boat handling, seamanship, water safety skills, and racing in a safe and fun environment. Camps are held Monday through Thursdays, 9:00am – 4:00pm, from June 17th through August 15th.
The club's fleet of Sunfish, Lasers, and Optimist dinghies allow a great deal of hands-on training in the sheltered waters of the North East River. Sailors are also welcome to bring and use their own boat. The program offers instruction at all levels – beginners, intermediate, and advanced racing.
Instructors are CPR and First Aid certified and hold U.S. Sailing Instructor certification.
NERYC's Summer Sailing Program is open to everyone. The NERYC web site (http://www.NERYC.com) has full program details and application forms. Supervised care is available from 8:30am to 4:30pm. To maintain a quality program, participation is limited and registration is on a first come, first served basis.