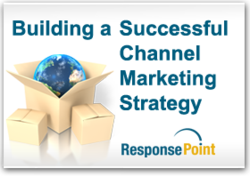 Build a sustainable channel lead generation program that encourages partner participation
Raleigh, NC (PRWEB) April 16, 2013
ResponsePoint (http://www.ResponsePoint.com), a Raleigh, North Carolina based marketing agency specializing in Business-to-Business (B2B) lead generation solutions has announced the availability of its next marketing training session entitled Building a Successful Channel Marketing Strategy. This free online training course will help companies understand the critical steps necessary to:

Building a sustainable channel lead generation program that encourages partner participation
Tracking lead status from source to close even after they are handed off to distributors
Better managing coop and market development funds to enable measurement of ROI
Protecting the quality of your brand and messaging without hindering innovation and utilization.
"Building a successful channel marketing strategy requires a significant amount of hand-holding," says Brian Gossett, CEO of ResponsePoint. "Unlike internal, dedicated sales teams, distributors have competing priorities and dozens of different vendors vying for their attention. This means your channel strategy needs to deliver high quality leads with little involvement from your distributor".
This webinar, Building a Successful Channel Marketing Strategy, will demonstrate proven marketing processes leveraged by ResponsePoint's Fortune 500 clients to improve the productivity of marketing programs executed by the channel. In addition, it will illustrate efficient ways of syndicating content, streamlining promotions and capturing critical reporting data for accurate ROI measurements.
ResponsePoint offers monthly training webinars and other resources available to marketing professionals within their marketing learning center. For more information about ResponsePoint's marketing training modules or the free consultation offer, visit their website at http://www.responsepoint.com or call 800-990-0725.
About ResponsePoint
ResponsePoint builds efficient and effective B2B lead generation solutions. Our process centered approach to lead generation improves your ability to produce better quality leads, consistently over time. This starts with developing a strategy that aligns your objectives with the right target audience and the perfect mix of marketing communications. We then use our experience to apply proven marketing processes and technologies that simplify program management, measurement and sustainability for long after our initial engagement is over. ResponsePoint's headquarters is just outside the Research Triangle Park area of North Carolina.