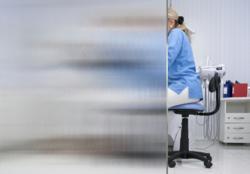 "When industry professionals design for privacy and natural light, they often need to make a compromise. Houdini Glass is simple and elegant… a cost-effective answer to the challenges of privacy-driven designs without compromise." – Donald Jayson, Sr. VP
New York, NY (PRWEB) April 16, 2013
Bendheim is introducing Houdini™ Glass, a specialized decorative architectural glass delivering the benefits of both privacy and daylight. The low-iron, ultra-clear glass lets in maximum daylight, while its fine, micro-ribbed surface reduces glare and obscures the shapes of people and objects behind it.
Houdini's outstanding daylighting properties make it an ideal solution for any environment where privacy and natural light are vital, including healthcare and educational facilities, laboratories, corporate offices, and retail applications. The glass offers a budget-friendly alternative to expensive or cumbersome mechanical daylight and privacy controls, such as louvers and laminated privacy films, as well as dust-collecting curtains and blinds. Its contemporary linear pattern and durability make it a timeless, versatile design element.
"When industry professionals design for privacy and natural light, they often need to make a compromise," said Donald Jayson, Sr. Vice President of Bendheim. "Houdini Glass is simple and elegant… a cost-effective answer to the challenges of privacy-driven designs without compromise."
Design professionals can specify Houdini Glass for walls, partitions, screens and enclosures, doors and windows, ceilings, and balustrades. The naturally hygienic, non-porous glass surface easily withstands daily cleaning and sanitizing with most commercial cleaners, making Houdini Glass a great fit for high-traffic applications.
Architects and designers seeking additional aesthetic options can specify Houdini Glass laminated to mirror, with colored interlayers, or color coated in a virtually unlimited palette. The mirrored Houdini Glass produces minimal reflections and disperses light to brighten interior spaces.
Homeowners & DIY enthusiasts, too, can order cut-to-size, ready-to-install Houdini glass by ordering directly from Bendheim's Cabinet Glass website.
Houdini Glass is available in tempered and laminated forms for additional safety. It is available in approx. 3/16" thickness in sheet sizes up to 65" by 126". For more information, please call Bendheim at 1-800-221-7379 or visit http://www.bendheimarchitectural.com.
About Bendheim:
Bendheim (http://www.bendheim.com), the resource for specialty glass since 1927, offers more than 2,000 decorative glass types in stock and unlimited custom design solutions. The third-generation, family-owned company develops, imports, and distributes its products worldwide. Bendheim maintains production facilities in New Jersey and an extensive showroom in Tribeca, New York City. Bendheim is the exclusive importer of Lamberts mouth-blown and channel glasses in North America.