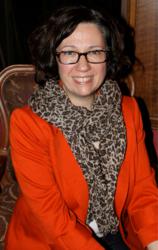 Needham, Mass. (PRWEB) April 15, 2013
Olin College of Engineering has named Rae-Anne Butera, associate dean of students and director of the First Year Experience at Smith College, as the new dean of student life. Butera will assume her role in July 2013, following the retirement of Rod Crafts, Olin's founding dean of student life.
"Rae-Anne was the top choice of the search committee, the Olin community and me," said Vincent Manno, provost and dean of faculty at Olin. "I am confident that she will build on Rod's legacy to help create an even more extraordinary continuum between academic and student life, which is a hallmark of the Olin learning experience."
Butera has been the associate dean of students at Smith College since 2005, and director of the First Year Experience since 2011. As director of the First Year Experience, she created and implemented a specialized program in which students choose which orientation groups to participate in based on their personal interests, a practice that fosters greater connections to fellow classmates as well as participating faculty and staff.
Butera received her bachelor's degree in psychology from Trinity College in Washington, D.C. She earned her master of science in counseling, with a concentration in student development in higher education and higher education administration, from the University of North Carolina at Greensboro. Butera is currently pursuing a doctorate in higher education from the University of Massachusetts, Amherst.
Butera is an elected member of the Directorate of the Standing Committee for Women within the American College Personnel Association. She holds memberships in the National Orientation Directors Association and the National Association of Student Personnel Administrators.
"It is an honor and privilege to join the Olin community as Dean of Student Life" said Butera about her new appointment. "I am excited to work with the wonderful team in the Office of Student Life, as well as students and other colleagues to provide the best education for Olin students. My family and I look forward to becoming part of the Olin community."