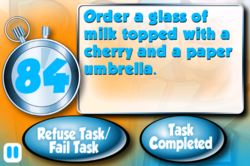 BarBallzTM is the next evolution of the game "Truth or Dare," but much of the focus is on the dare aspect here.
Memphis, TN (PRWEB) April 23, 2013
In a first of its kind in terms of social setting specific mobile games, Tropical Applications Development Corp. has introduced BarBallz ™. This newly released app grew out of a desire to make the bar scene more fun, and its inspiration proved to be an accommodating server who waited on the game's creator.
Brian Child, head of gaming development for Tropical Applications, explains that he and another member of the Tropical Applications development team, Rick Moore, were bored at a bar one evening and Brian suggested to Rick that he would never dare their "rather attractive" waitress to return to their table with an item of her clothing in her apron pocket. Brian never expected Rick to actually do it, but Rick did - and so did the waitress.
"Surprisingly, she did and thought the whole thing was hilarious," Brian said. "That single incident sowed the seeds for BarBallz ™." The game lets any group liven up their time in a bar. They can not only have fun among themselves but also, if they choose, meet new people. Best of all, they can blame the game for their antics. Ultimately, Brian explained, the iPhone app allows friends to playfully compete to see who has the most "ballz" to accomplish fun and daring tasks.
"In short, we designed a game that we wanted to play," Brian said. "It is heavy on fun with the emphasis being friendly interactions with each other and others." Fundamentally, BarBallz ™ is the next evolution of the game "Truth or Dare," but much of the focus is on the dare aspect here. The result is people choosing to do things that they would not normally do. So we designed the game so you can still play and have fun and win points for being less adventurous- just fewer points!
"BarBallz ™ lets people be a bit more adventurous and come out of their shells," Brian said. "But we did take into account that not everyone is ready to be the center of attention and recite lines from Shakespeare while wearing someone else's underwear on their head."
To Brian's point, BarBallz ™ features difficulty settings of easy, medium and hard. Players are awarded points for the successful completion of a task. The more difficult the level and the sooner the task is accomplished, the more points they will be awarded.
Of the literally hundreds of tasks that come with the full version of BarBallz ™, sample tasks run the gamut from ""Ask the server if they are married" (easy) to "Do the Macarena for 30 seconds. Do NOT sing or hum the song while doing it" (medium) to "Find someone unknown to you in the bar who will return to the table with you and sit on your lap" (hard).
.
BarBallz ™ is now available on the Apple App Store and will be free to download for the next 4 days.