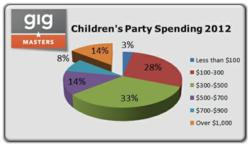 South Norwalk, Connecticut (PRWEB) April 16, 2013
According to a new report compiled by event booking service GigMasters.com, the average amount spent on children's parties has steadily increased since 2010. The popularity of throwing themed events is also on the rise as 78% of parents say they theme their children's parties. GigMasters' data also revealed some other fascinating trends in children's party planning. Here are the highlights from the report, noting the most interesting kids' party trends:

70% of parents spend at least $300 on their child's party, and 14% reported that they spend over $1,000 per party.
"The more extravagant the better," is the philosophy 25% of parents believe in when it comes to children's parties. Entertainment and party vendor bookings increased 14% from 2011 to 2012.
Clowns, followed by Face Painters and Magicians were the most booked children's party entertainers. Bounce Houses topped the list as the most popular kids' party rental.
Sesame Street and Minnie Mouse parties were named as popular theme choices for children ages 1-3, while Princess and Superheroes were more popular with kids ages 4-6.
Caricaturist and DJ were tied for being the most booked form of entertainment for Bar and Bat Mitzvahs. DJ's were the most booked form of entertainment for Sweet 16's.
While party favors and goodie bags can sometimes be controversial due to their contents, 80% of parents said they will offer favors to their guests.
"I love to see that more and more parents want to create fabulous parties for their kids," says GigMasters Marketing Manager, Nicole Steeger. "The great news is that there are so many options out there, at many price points, and GigMasters makes it easy for parents to find them."
GigMasters' report comes from an analysis of over 12,000 children's parties planned from 2010-2012 along with a survey of clients who used GigMasters to book kids' party vendors. For the complete report, visit our Life of the Party blog.
GigMasters regularly provides local and national data sheets on holiday, wedding and other entertaining trends to newspapers, bloggers and other media outlets.
About GigMasters
GigMasters.com is the web's number one event booking service, guiding party planners and hosts to the right entertainment and vendors for every event. By combining the efficiency of the web with the personal touch of a private event planner, GigMasters has helped facilitate more than 190,000 event bookings: weddings, birthday parties, corporate functions and more. With the largest nationwide database of client-rated vendors and entertainers, GigMasters boasts 10,000+ members including live bands, DJs, wedding musicians, event photographers, celebrity impersonators, balloon twisters, stand-up comedians, jazz trios, photo booths, string quartets, soloists, limousines and more. The site, founded in 1997 by Kevin Kinyon and Michael Caldwell, attracts over 30,000 daily visits* throughout North America. GigMasters is a proud member of the Better Business Bureau, TRUSTe, and is also a DigiCert secured website. For more information, please visit http://www.gigmasters.com/.