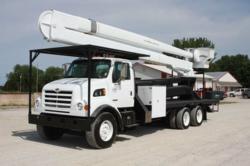 Colona, IL (PRWEB) April 12, 2013
I-80 Equipment of Colona, IL, leading the market in refurbished bucket trucks, announced the hire of their new sales manager, Ken Grawe. Grawe graduated from Illinois Weslyan University in 1987 with a bachelor's degree in Business Administration. With 26 years in sales, management, and ownership, Grawe joins the I-80 Equipment team as a vital piece to the exponentially expanding company.
Grawe says that his "top priority is customer service. To take care of the customer is paramount." Grawe will focus his sales strategy on customer satisfaction, with a team motto of "no excuses" to take care of customer needs. I-80 Equipment has a history of always putting their customers' needs at the forefront. They work to ensure not only the best deals but top quality and guarantee of their products. With these values, Ken Grawe is the perfect fit for this growing company.
Ken Grawe is from the Quad Cities area and is a family man at heart. He has two children, one a senior in high school, one a freshman in high school, and a wonderful partner. He is driven by his children and makes keeping a balanced life his every effort.
About I-80 Equipment
I-80 Equipment leads the market of used bucket trucks, saving businesses thousands of dollars on quality equipment. Through an extensive refurbishing process, they restore used equipment to a like-new condition, even surpassing manufacturer specifications at times with additional upgrades. I-80 Equipment also offers specialized customization accommodating specific applications or to match a pre-existing fleet. Their customer service is always a priority.
I-80 Equipment
120 Walnut Lane
Colona, IL 61241
(Toll-Free) 888.949.3701
(Local) 309.949.3701
(Fax) 309.949.3760
(Email) info(at)i80equipment(dot)com