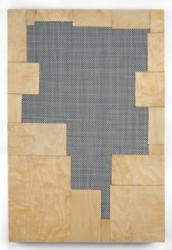 When objects in my paintings are shown, they're like performers stepping forward onto a stage.
Englewood, NJ (PRWEB) April 16, 2013
One River Gallery in Englewood will present the first New Jersey showing of "Silent Opera," an exhibition of sculptural paintings by Ken Weathersby, with an opening reception on April 19 at 6:00PM.
In his paintings, Weathersby surrounds patterns with smooth sheets of plywood. In his collage-based works, found images and photographs are embedded beneath dense wooden grids that act as screens, caging the images that lie beneath. Both are reminiscent of architectural models or aerial views of imagined landscapes.
"When objects in my paintings are shown, they're like performers stepping forward onto a stage," explains Weathersby. "Recently, I've taken whole pages from art books and built on top of them: hiding them, replacing them, saving them, or burying them with other found elements."
Weathersby's works were featured in his 2012 solo shows "Strange Fit" at Pierogi Gallery in Brooklyn and "The Other Ken Weathersby" at Gallery Aferro in Newark, NJ. His creations were featured in the 2012 group exhibition "Post-Op" at Mixed Greens Gallery in New York. In 2011, Weathersby's paintings were shown in the art galleries of the University of Maryland, Kent State University, University of Delaware, University of Dayton, and the College of St. Elizabeth. His works also appeared in the National Academy of Art Museum's "183rd Annual: An Invitational Exhibition of Contemporary American Art in New York" and in the exhibition "Continuing Color Abstraction" at The Painting Center in New York.
Weathersby received an MFA in Painting from Cranbrook Academy of Art in Michigan and has lived in the New York metropolitan since 1990.
"Silent Opera" will be presented at One River Gallery, 49 N. Dean Street, in Englewood, NJ. The opening reception will be held on Friday, April 19th from 6:00 to 9:00PM, and the exhibition will run from April 19th through May 25, 2013.