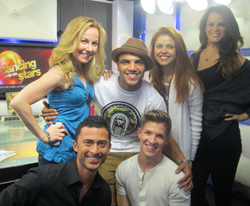 Chemistry [with Lindsay] is definitely there now, but not like, in the sense that I'm going to go date her.
Los Angeles, CA (PRWEB) April 12, 2013
Dancing With The Stars' Victor Ortiz made an appearance on AfterBuzz TV's Dancing With The Stars' aftershow Wednesday night. In his appearance, Ortiz addresses rumors that he's dating DWTS partner, Lindsay Arnold, talks about a prank he played on fellow celebrity dancer, Andy Dick, says he will never let his kids get into boxing, and talks about almost throwing up when he made the bottom two.
Victor on his DWTS experience so far:
"There's muscles that I've never used that I've been tapping into and I go home and I hurt. I'm sore. There's muscles in my calves that I never knew I had."
Victor on wearing the Cuban heels for dancing:
"I don't like 'em! I was wearing them in rehearsals and I couldn't deal with these things they hurt my legs, they hurt my feet…Can I just wear my Chucks or something?"
Victor on winning DWTS:
"That's actually a harder fight than a boxing match. There's no joke there. That's tough."
Victor on working with new pro, Lindsay Arnold:
"[Lindsay] is amazing. She's a great dancer, obviously more experienced than me. It gets a little overwhelming sometimes. I don't think she knows how to teach a person who knows nothing about dancing. I overwhelm her sometimes…I think we've really started meshing in the last couple weeks though."
Victor on the rumors that he's dating Lindsay Arnold:
"Chemistry is definitely there now, but not like, in the sense that I'm going to go date her. It's not like that. There's no dating. Just throwing it out there. There's a lot of rumors out there…It's professional."
Victor on how his dancing is similar to his boxing style
"All rehearsals, I did every step perfect. I didn't mess up once. That night comes around, the only thing I lacked in rehearsals was emotion. I delivered some emotion but it wasn't what she [Lindsay] was asking for and for some reason, when I hit the dance floor..it's like the same getting in the boxing ring, I deliver in the boxing ring. I deliver. I can perform, but I cannot deliver that in rehearsal."
Victor on his "18" score this week:
"I knew I could have done way better, but at the same time, I was hoping they weren't going to give fours or fives because I battered that dance. When they gave me sixes…I'll take 'em!"
Victor on being in the bottom two on Tuesday:
"I called it. I said it was going to be me and Lisa…I bet a whole dollar to one of my buddy's on the cast. I said, 'I betcha tomorrow I am going to be in jeopardy. The bottom two.'"
Victor on Andy Dick:
"I always mess around with Andy in his trailer. I took his laptop the other day and put it under his bed. And I was like what happened someone stole your laptop? [Andy] is a great person. I mean obviously shares with the world about his abuse of alcohol, but I didn't know that. The person I've gotten to know is just Andy…He's so nice. He and I hang out all the time. Our trailers are connected to each other, so I'm always in his trailer and he's always in mine…I saw him as a good dancer right off the bat. At the beginning he looked a little tight and stuff, but I thought he's gonna be good."
Victor on being in the bottom two the first week:
"First week I felt like I was going to faint. I looked over at Lisa. She was right next to me, and I grabbed her hand and looked at her and said I'm going to throw up. Gleb goes, 'Oh this is not good.' And then Lisa goes, 'Oh I have to play mom for both of you.' And then I looked at Lindsay and said I really think I'm going to throw up. She goes, 'Just breathe!' There's nothing you can do. You just have to stand up there and take it for what it's worth. You're looked at. You're told what just happened. And the worst part about it is being told just to smile. I'm like, 'I'm the bottom two and you want me to smile?' How hard is that?"
Victor On Why His Kids Won't Go into Boxing:
"If ever comes a time when I have kids...they will never fight, they will never be any part of boxing. They will never be anywhere near boxing. They are gonna go to college, they are gonna graduate, they are going to go on with their lives, get their education. Daddy got enough beating for the family."
Victor on Zendaya:
"I already picked her and Val to win the whole thing. I'm not trying to make my partner feel any less or anything, but I don't think I could deliver like Zendaya does. Zendaya is awesome. Jacoby and I call her Baby B!...She's such a natural and looks like one of the pros."
Victor on Lisa Vanderpump being sick last week:
"Actually I was in her trailer right before she performed, poor sweetheart was just lying there on her pillow and Giggy was just lying there breathing. I asked her how are you doing sweetheart? And I gave her a kiss on the head. And she goes, 'Don't kiss me Victor. You're going to get sick.' And I go, 'Eh I'm made of steel. I'll be good.' So I just said it's going to be all right sweetheart. I'm pretty sure I'm going to be in bottom two tonight so regardless just go out and rock the house. She said, 'I don't think I should dance.' And I said follow your heart. She followed her heart and she delivered."
Links to Victor Ortiz's full appearance can be found on YouTube and iTunes.
YouTube: http://www.youtube.com/watch?v=Unc5uCoUubo&list=PLFFA6A105EA48A663&index=1
iTunes: https://itunes.apple.com/us/podcast/dancing-stars-afterbuzz-tv/id427845827?mt=2&ign-mpt=uo%3D4
AfterBuzz TV's Dancing With The Stars aftershow airs live Wednesday nights at 9pm Pacific and is available for download the next day on iTunes and YouTube. The Dancing With The Stars aftershow is a weekly wrap up show that broadcasts worldwide from Los Angeles, CA as part of Extra's Maria Menounos and filmmaker Keven Undergaro's online broadcast network, AfterBuzz TV. AfterBuzz is dedicated to producing daily post-game wrap-up shows for fans' favorite TV shows, covering shows like The Following, American Idol, WWE Monday Night Raw, House of Cards and countless others. Currently, AfterBuzz TV receives over 20 million weekly downloads on iTunes from over 75 countries. For further information about the network, visit afterbuzztv.com.