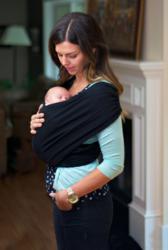 West Des Moines, Iowa (PRWEB) April 16, 2013
Bliss Baby & Maternity is now carrying the JJ Cole Agility and Medley baby carriers. Many babies have a preference for being carried and snuggled close and that is why the Agility wrap is a perfect fit for those babies. The Agility is a very simple and sleek design and it is made of jersey knit fabric, which is very forgiving while still being breathable and easy to wash. It is a one piece system with no extra hooks, buckles, or snaps. It just stretches over the baby head like a t-shirt and feels nice and light. The back of the wrap is lined with a mesh panel, which gives a little extra padding as well as breathability when a growing infant is settled into the front.
A newborn baby will slide nicely into the two cross-over fabric pieces in the front. This will allow the baby to be close and housework and other tasks can be accomplished this way. The wrap can accommodate other positions as well allowing baby to face inward or face outward while being very secure with additional wraps that go underneath baby's bottom.
The instruction manual is very clear in its instructions with pictures added as well. The carrier is very simple to use. The carrier is safe for babies up to 35 pounds but it is highly recommended for newborn to 6 month olds.
When looking for an easy and comfortable wrap, please stop by Bliss Baby & Maternity to pick up a wrap from JJ Cole.