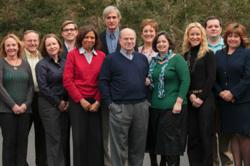 Everytime I come across a technically challenging problem, I know I can count on PharmaDirections to help me find a solution.
Cary, NC (PRWEB) April 16, 2013
PharmaDirections is celebrating 10 years of providing pharmaceutical consulting and project management services to biotech and pharmaceutical company clients. With specialized expertise in preclinical studies, biopharmaceutics, pharmacokinetics, formulation development and regulatory affairs, PharmaDirections has been able to provide clients with resources to fill in gaps between success in the laboratory and proof of concept in the clinic.
PharmaDirections specializes in getting the innovations of small and virtual startup companies from concept to the clinic and beyond, to proof of concept and partnering. The company utilizes an extensive network of seasoned experts and service providers in CMC, preclinical, and regulatory to provide a seamless path through the labyrinth that is pharmaceutical development.
Company President Richard Soltero, Ph.D. founded PharmaDirections in 2003 to fill a unique need of the very small, often virtual, biopharmaceutical companies that were quickly springing out of universities and medical centers. While contract development services were well developed by that time, few vendors could provide the management and oversight needed to put all the pieces together. Utilizing connections developed during his 30+ years in the pharmaceutical industry, Dr. Soltero pulled together a network of experts in various aspects of drug development to provide the virtual management teams these small companies needed to achieve their goals.
Since the company's inception, PharmaDirections has helped over 150 clients with their research programs by providing preclinical, chemistry, formulation, and regulatory affairs expertise. PharmaDirections operates with a core staff spearheaded by Dr. Soltero, and three Principals, Drs. Michelle Higgin, Bruce Rehlaender and Sara McKenzie. They oversee the work of nearly 60 associates who work closely with over 100 contract research organizations that conduct the studies needed to help move their clients' drugs from lead identification to Phase two clinical studies. Using PharmaDirections allows clients to keep their own companies lean while still having access to the world-class resources and expertise normally found only in large pharmaceutical companies.
About PharmaDirections
PharmaDirections provides pharmaceutical consulting and project management services with special expertise in preclinical development, formulation development and CMC, and regulatory affairs. PharmaDirections is structured to help biotech and pharmaceutical companies navigate from preclinical drug development to the clinic faster and with higher quality than traditional outsourcing options. Our Project Leaders design, direct and manage preclinical, CMC and regulatory affairs projects with an emphasis on science and a focus on staying within budget and delivering on time.