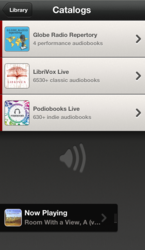 "Twice a day we import the latest free audiobooks and make them available to our subscribers, giving them access to the most extensive and up-to-date free audiobook catalog on iOS," says Inkstone Mobile CEO Patrick Thompson
Portland, OR (PRWEB) April 15, 2013
Inkstone Mobile, maker of the top-selling speed-reading, ebook reader, and audiobook apps QuickReader, MegaReader, and Audiobooks HQ, has expanded its library of audiobook content with the addition of a new indie audiobooks catalog and the launch of a new subscription service. The subscription service will be available in a new update to Audiobooks HQ, Audiobooks HQ 2.0, as well as in a new complementary version of the app, Audiobooks Free.
Developed with the same sleek design of Audiobooks HQ, the new Audiobooks Free app grants users instant access to over 5,450 no cost high-quality audiobooks. With it, book lovers can easily browse through thousands of their favorite audiobooks, download them, and play them back at any time – no Wi-Fi connection necessary.
Users of both Audiobooks Free and the updated Audiobooks HQ can choose to broaden their listening horizons via Inkstone Mobile's brand new subscription service. For as little as 84 cents per month, the subscription will make Inkstone's complete collection of over 7,200 books available to app users.
"Twice a day we import the latest free audiobooks and make them available to our subscribers, giving them access to the most extensive and up-to-date audiobook catalog on iOS," says Inkstone Mobile CEO Patrick Thompson.
Features of Inkstone's Audiobooks HQ 2.0 & Audiobooks Free apps include:

7,200 complementary audiobooks via subscription with additional new audiobooks added daily. This includes LibriVox Live (6,570+ classic books), Podiobooks Live (630+ contemporary books), and Globe Radio Repertory (4 performance audiobooks).
Over 5,000 audiobooks on both apps at no added cost (without a subscription)
Easy search functions. Find books by most downloaded, top rated, genres, tags, solo read books, language, recent, related books, and Inkstone's top recommendations.
Leave a note for yourself to come back to your favorite parts of the book with the bookmarks feature.
Access downloaded audiobooks anytime, anywhere – no network connection needed.
Click here to download Audiobooks Free. Click here to download the new Audiobooks HQ 2.0.
For more information about Inkstone Mobile and its collection of apps visit http://www.inkstonemobile.com or follow them on Facebook and Twitter.
About Inkstone Mobile:
Based in Portland, Oregon, Inkstone Mobile is an independent software development company founded by Patrick Thompson. Combining a strong blend of design and development skills, Inkstone Mobile's passion is to craft elegant, easy-to-use applications for mobile devices.