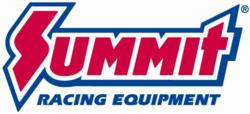 Tallmadge, OH (PRWEB) April 13, 2013
Summit Racing Equipment now stocks the new SCT Performance Livewire Handheld Programmers for GM and Ford vehicles.
The Livewire TS comes preloaded with dyno-proven tunes to optimize the engine's air/fuel ratio, engine timing, and fuel curves. It can also store up to 10 of your own custom tunes, and it retains the original OEM tune if you wish to go back to the factory settings.
Adjustable Settings for Preloaded Tunes

Spark timing
WOT fuel curve and fuel injector size
Shift firmness
Idle speed and speed limiter
Electric fan turn-on setting
Rear axle ratio and tire size
Traction control (if so equipped)
Rear oxygen sensor disable (if so equipped)
Adjustable Settings for Custom Tunes

WOT fuel curve
WOT shift points for each gear
Shift firmness
Idle speed
RPM and speed limiter
Electric fan turn-on setting
Rear axle ratio and tire size
Additional Features

Reads and clears diagnostic trouble codes
Performance Calculator (0-60 mph, 1/8- and 1/4-mile ET/mph, top speed, 60-0 mph braking)
• High speed data logging and monitoring

Four inch color touch screen display with built-in brightness sensor
Rearview camera input
User selectable graphics
Windshield mount
Part Numbers
SCL-5416 1999-2013 GM vehicles with V8, gasoline only
SCL-5015 1994-2013 Ford vehicles, gas and diesel
Summit Racing Equipment
http://www.SummitRacing.com
1-800-230-3030