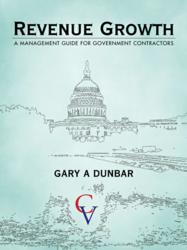 The book is about achieving sustainable revenue growth using fundamental solutions which I have successfully applied during my career.
BOSTON (PRWEB) April 16, 2013
Despite a shrinking and uncertain market, revenue growth is attainable. Gary Dunbar has worked more than four decades in government contracting. He shares his expertise in government contracting and management consulting in his book, "Revenue Growth." The book explores how to create a shared vision, motivate employees and generate a step-by-step decision process for investing in a company's future.
Dunbar's solutions are time-tested and successful in today's challenging market. "Revenue Growth" offers contemporary commentary on the following topics:

Revenue growth leadership
Solution value delivery strategy
Business development framework and management
Market surveys and revenue forecasts
Business strategies for sequestration/budget reductions
"Revenue Growth" includes Dunbar's advice along with real world examples that provide guidance in the management, leadership and procedures needed to achieve long-term revenue growth.
With more than 40 years experience in government projects, Dunbar has the skills and knowledge to give expert advice on consulting, contracting and managing.
"The book is not about ineffective leadership," says Dunbar. "Rather, it is about achieving sustainable revenue growth using fundamental solutions which I have successfully applied during my career."
For more information visit clientviewconsulting.com
"Revenue Growth"
By: Gary Dunbar
ISBN: 978-1475969191
Available at: Amazon, Barnes & Noble and iUniverse
About the Author
With over 40 years of experience, Gary Dunbar, an MIT graduate, is an expert in the field of government contracting and management consulting. He is a partner and management consultant of ClientView LLC. He and his wife Claire live in New England. They have three grown children, four grandsons and one dog. Dunbar plans to write three follow-up books on marketing, positioning, and proposing for government contractors.
###