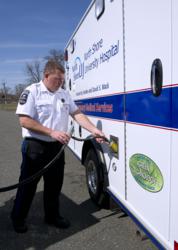 SYOSSET, NY (PRWEB) April 18, 2013
As more than one billion people around the globe plan to celebrate Earth Day on April 22, the North Shore-LIJ Health System is marking the event by hitting the road with the country's first compressed natural gas (CNG)-powered ambulance. The new, custom-designed vehicle is cleaner, greener and quieter than any other ambulance in the US.
According to Paul Power, assistant director of operations for the health system's Center for Emergency Medical Services (CEMS), the CNG-powered ambulance was rolled out at the end of 2012 as a pilot project, mainly servicing the Village of Rockville Centre on Long Island. Mr. Power, who researched the CNG ambulance over the last two years with vehicle manufacturers and the West Nyack, NY-based Clean Vehicle Solutions, a leader in the CNG vehicle industry, said that using compressed natural gas offers many advantages over diesel or gasoline fuel.
"We have a goal to green our fleet of ambulances and emergency vehicles to protect the environment, and reduce pollutants and noise in the neighborhoods we serve," said Mr. Power. "The CNG-ambulance reduces greenhouse gas emissions by about 30 percent, improves air quality and decreases fueling costs." Running on natural gas is about about $2 cheaper per gallon than diesel or gasoline prices. The CNG-ambulance, which runs 60 hours a week, would see about an annual fuel savings over $6,000, said Mr. Power.
Alternate fuel vehicles are one way that North Shore-LIJ is working toward reducing green house gas emissions, as part of its comprehensive sustainability plan, said Lisa Burch, the health system's director of sustainability and social responsibility.
"It's also important to diversify our fueling options for our fleets, especially after the crippling gas shortage during superstorm Sandy," said Mr. Power. "After the hurricane all CNG stations were open." North Shore-LIJ's CEMS owns over 100 emergency vehicles and consumes the majority of the health system's diesel and gasoline, costing over $1.1 million annually.
While equipping ambulances for CNG adds about $20,000 to cost of the $115,000 vehicle, Mr. Power says the additional investment is recouped over the life of the ambulance in terms of fuel savings and decreased maintenance costs. The health system is working on acquiring another CNG-fueled ambulance in the coming months.
Compressed natural gas is delivered to the ambulance in cylinders that are encased in a metal box behind the driver's seat and underneath the vehicle. CNG fueling stations are readily available in the tri-state area and close to CEMS headquarters and other service areas.
Natural gas powers about 120,000 vehicles in this country, mainly fleets of taxicabs, transit and school buses, construction vehicles, garbage trucks and other trucks due to lower fuel costs, cleaner emissions and easier maintenance. This represents less than one percent of all vehicles powered by natural gas worldwide. According to Clean Vehicle Solutions, converting one truck from diesel to natural gas is the equivalent of taking as many as 325 cars off the road in terms of pollution reduction.
# # #
North Shore-LIJ Health System's Sustainability and Social Responsibility Mission
North Shore-LIJ Health System's sustainability and social responsibility mission is focused on improving the health and well-being of our communities and society at large. Through responsible decision-making and support of our communities, we will protect and enhance the environment and improve quality of life. As a leading regional and national health system, North Shore-LIJ has the ability and responsibility to use its expertise to further socially and environmentally-conscious objectives. We've made significant strides in our green practices — recycling materials and construction debris, reducing our energy and water use and investing in sustainable technologies in heating, cooling, transportation and lighting. We are also deeply committed to safeguarding and improving the health and the environment of the communities in which we work and live.
http://www.northshorelij.com/hospitals/about-us/sustainability-social-responsibility
About Clean Vehicle Solutions, LLC: A leader in the compressed natural gas (CNG) vehicle industry, Clean Vehicle Solutions is a full service, end-to-end CNG solutions provider supporting fleet operations with extensive production, maintenance & training services coupled with fueling infrastructure development, financing, and maintenance. This end to end solution is the first of its kind in the United States designed to support the development and effective operation of an alternatively fueled fleet. For more information, go to http://www.cleanvehiclesolutions.com