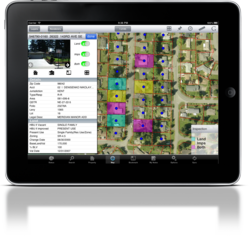 Make smarter decisions with integrated data and GIS
Redmond, WA (PRWEB) April 16, 2013
Mobise, developer of leading edge mobile solutions for business and government, announces business intelligence for the iPad, with the perfect blend of data and GIS maps.
Enterprise data at one's fingertips combined with GIS mapping opens up a whole new world of business intelligence for professionals on the go. Imagine being able to view data graphically overlaid on maps from the iPad to quickly scan for consistencies, anomalies or opportunities. Imagine being able to drill down on the data to gain more information on an asset, make changes, see the visual results instantly and send those updates back to the office. Lose wireless connection? No problem. The changes are safely tucked inside the iPad and will sync up with the office once connection is regained.
GIS and data integration technology has been available on desktops for years. Now the power of your desktop is available for iPads and other tablets.
Field professionals inspecting assets, assessing buildings and property, tracking projects, analyzing work in a territory benefit from an instant snapshot of their work, especially if it's visually displayed with colors and shapes overlaid on a map.
Let's look at an asset management example. A property appraiser needs to inspect properties in a neighborhood and see if there are new improvements (i.e. a pool, new deck, porch or shed). S/he has all the current asset information stored on an iPad complete with aerial, property parcel view and Google maps. Properties can be visually located based on the appraiser's location via GPS. An aerial view shows the appraiser the nearby properties to inspect. With a tap of the finger on a property, the appraiser calls up the detailed information about the house and compares it to the live view. If a new porch has been built, it is photographed or sketched and added immediately to the property record. As the appraiser completes inspections in a neighborhood s/he can visually track progress via color coded properties on top of an aerial map, gaining intelligent insights on workflow.
If a property's condition has deteriorated or improved since the last field inspection, a new "grade" can be added and immediately viewed as a color coded visual layer on top of the aerial map. This "visual" can alert the appraiser to see if the grade is consistent with other homes nearby or significantly different. This business intelligence allows the appraiser to make decisions on the go. From another angle, this "visual property grade" allows builders and lenders to make intelligent decisions about properties for investments. Visual layers can show colored coded information for traffic noise and lake views.
Imagine an equipment inspector who makes regular rounds to inspect machines at various manufacturing sites. He heads out of the office, iPad in hand, loaded with the machine inventory, service history at each location, complete with maps for determining the best routes. As the inspector checks over a machine, he notices that a part needs to be replaced. The inspector can check inventory, and place the part order directly from the iPad to be fulfilled back at the office, no calls necessary. Notes and sketches can be made and photos taken and directly attached to that machine record, with no additional typing back at the office. Deep inside a plant, the inspector may lose wireless coverage; however, he continues to work without notice as all his changes are saved and automatically sent back to the office when he regains coverage or stops for a coffee at Starbucks. While enjoying his coffee, he can call up a map layer for a quick visual check; determine which assets have been inspected, actions initiated and which assets still require inspection.
Mobise developed an iPad solution for King County (WA) property appraisers that tightly integrates property data with GIS maps and layers, offering field appraisers instant graphical views of their inspection work and data decisions, providing the opportunity to make real time smart business decisions on the go.
The possibilities are endless - limited only by one's imagination, in terms of how much data to visually display over a map to identify trends and opportunities. Any type of asset management benefits from business intelligence gained from "big picture" graphical views of asset condition, inspection workflow, data consistency, and anomalies, offering new business opportunities, whether at the office or on the go.
Mobise creates mobile applications for business and government, via its Mobise Platform, primarily focused on the iPad and iPhone. Their experience comes from over 20 years in the software IT industry, and includes complex back-end systems leveraging cloud, web and mobile technologies that integrate with various lines of business. http://www.mobise.com