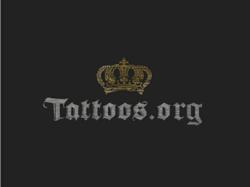 I wanted to find a place where I could share my own ink without having to deal with a lengthy signup process
Las Vegas, Nevada (PRWEB) April 16, 2013
The number of people getting inked every year has risen significantly in the past decade as society begins to accept tattooing as a mainstream concept. The interest in tattoos as body art combined with the increasing number of skilled professionals that can do this work is creating a much wider audience for tattooing than ever before. While tattoos used to be mostly reserved for sailors, military men, bikers, and other rebels, even Grandmas are finding themselves getting inked today.
As the popularity of tattooing has been increasing, the founders of Tattoos.org saw a need for a new type of resource. There are a lot of tattoo websites online already, but the majority of them either offer information OR galleries. Tattoos.org was created to offer everything that people need in one place: galleries, information and insight on tattoos, and user-friendly uploading so that visitors can share their tattoos. This website offers a full gallery of images, tattoo examples, and user-submitted photos that can help people get ideas for their own tattoos or just provide a place where people can share and look at different types of ink.
One of the founders of the website commented on how the site came about: "I was looking around online, and I wanted to find a place where I could share my own ink without having to deal with a lengthy signup process […] a place that had information and images together, and that was impossible to find. So I said to my friend, 'why don't we create a site like this?'. After all, we can't be the only ones looking for this type of site."
It's not hard to find places to look at tattoos online, and with competitive tools like Google Images, even the founders were a bit daunted by the idea. Still, they forged ahead with the belief that people could utilize their website and that an audience would appreciate what they have to offer. After extensive research and planning, they developed the concept for the website that would make tattoo sharing and idea gathering easier for everyone. The result was the new Tattoos.org, which is slated to launch this month.
Tattoos.org features a variety of different categories for tattoo images and user submissions, including everything from common tattoos to the weird and totally unique. The site also includes information on different tattoo designs, including history, popularity, and styles and designs. Users that visit the site will find information easy to obtain and enjoy the simple, user-friendly uploading form that makes sharing tattoos easier than ever. There is no membership required and uploading can be done by anyone in a few clicks. All users have to do is choose their image to upload, agree to the terms and conditions of the site, and submit their ink to the galleries to share.
"The goal was to create a comprehensive site that we and our friends would want to use. We wanted to make sure we created a place worth visiting and coming back to, and I think we've succeeded." It appears that it will now be up to the public to judge whether the founders have done their job, but the outlook is good. With a lot of boring, static websites and information out there, this site definitely stands out from the rest. It has a very edgy, fun vibe and gives all kinds of tattoo enthusiasts a place to check out different designs and get insight on some of their favorite types of tattoos. There are even sections for different body parts and their related tattoos, designed to help people choose the right placement and understand what works in certain places.
Tattoos.org isn't necessarily doing something groundbreaking, but what sets them apart is the concept of ease of use and the comprehensive nature of the site. There are plenty of galleries and plenty of information sites, but it's rare to find the two combined together. Until now, that is. Tattoos.org caters to tattoo enthusiasts and first-timers alike, providing everything that people want when it comes to tattoos. From interesting history tidbits to sick designs and user submissions, there's definitely something for everyone to enjoy here. It's all about the ink, according to the founders, and from the looks of the site, it's going to be helpful for a lot of people.
According to the founders of Tattoos.org, the site is going to be a constant work in progress. Although they've covered all of the popular tattoo locations and types of designs, they intend to continue adding information and galleries as they become necessary. They want to make sure that this site is always providing people with the information that they need and a place to check out some cool tattoo designs, no matter what they have in mind. As one founder says, "It's like one-stop shopping for all of your tattoo needs—how can you get any better than that?"
About Tattoos.Org
Tattoos.org is the brainchild of a couple of guys who saw a need to create a better solution for tattoo enthusiasts. The website is designed to have a community feel and allow people to share tattoo designs and get information about different symbols. Located in City, State, Tattoos.org is changing the way people research tattoos by providing a comprehensive solution for all types of needs. The site has plans for continuous growth and expansion, and intends to use marketing and customer input to make future changes and improvements to the website. The founders of Tattoos.org are both tattoo enthusiasts with a commitment to the art, which spawned their interest in creating a site like this. To learn more, contact the company.