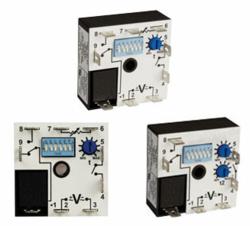 Distributors can literally replace thousands of products on their shelves with one of these three THR-3 Series models
Menomonee Falls, WI (PRWEB) April 30, 2013
Macromatic, manufacturer of industrial control and monitoring products, today announced the THR-3 programmable encapsulated time delay relay series. This series is comprised of the THR-3816U, THR-3836U and the THR-3856U models. Each model has multi-function capability with four of the most common time delay functions built-in. All models come with a programmable time delay that includes four time ranges covering 0.1S to 100M (1,000M on THR-3856U). Choices include onboard or remote adjustment of time delay. Now, even a timer with a fixed delay can be replaced with one of these products.
"Distributors can literally replace thousands of products on their shelves with one of these three THR-3 Series models," said Macromatic Industrial Controls President, John Perdue. "It streamlines and controls inventory immensely. Now, instead of having to order one piece, worrying about meeting order minimums and waiting two weeks or longer, distributors can satisfy their customer immediately from their stock."
The THR-3 series has a 10A SPDT relay output which is used when a higher current carrying and/or switching capacity are required or when switching a horsepower-rated device. It is designed with a universal input voltage of 24-240VAC & 12-125VDC which covers almost any application. These units are encapsulated for protection against harsh environments.
Functions available vary by each model.

The THR-3816U functions include: on delay, off delay, interval and single shot
The THR-3836U functions include: flasher off, flasher on, watchdog, one shot falling edge
The THR-3856U functions include: repeat cycle off, repeat cycle on, delayed interval, and delayed interval (triggered)
Other encapsulated time delay relays offered by Macromatic are the THS Solid State Output, THL Solid State Output Inline, and the THR Relay Output. Macromatic's THx Series Time Delay Relays utilize a microprocessor-based design for greater performance and maximum flexibility. All products are encapsulated for protection against harsh environments and are available in adjustable, fixed onboard or remote time delay.
MORE ABOUT MACROMATIC
Macromatic offers an extensive family of industrial controls and monitoring products, including Three-Phase Monitor Relays, Alternating Relays, Time Delay Relays, Pump Seal Failure Relays, Voltage Monitor Relays, Current Sensing Relays and Intrinsically Safe Relays. Standard and modified standard models are available as well as custom-engineered solutions with all products being made in the United States. Both the OEM and MRO markets are served while industries covered include Water/Wastewater, Irrigation, Car Wash Systems, Pump Control, Motor Control and Protection, Generator Control, Food & Beverage Processing, Material Handling, Packaging Equipment, Heating Ventilation & Air Conditioning (HVAC), Elevator Control and Compacting. Macromatic has a national network of preferred distributors which includes Grainger, McMaster-Carr, Newark, MSC Industrial Supply and Allied Electronics. Formed on May 1, 1975 the company is an independent Wisconsin corporation based in Menomonee Falls, a northwest Milwaukee suburb.