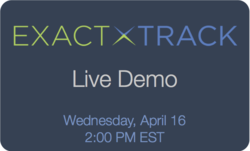 Many A/E firms don't realize the intricacies of reporting required by EEOC and OFCCP regulations, and if a firm doesn't maintain these records, it can cost them.
Atlanta, GA (PRWEB) April 15, 2013
ExactSource, a national talent solutions provider for A/E/C firms, recently added a new software to their suite of talent solutions. This proprietary software called ExactTrack is the first Applicant Tracking System designed specifically for engineering and architectural firms. ExactTrack is a fully integrated hiring management platform that helps firms recruit, assess and hire top A/E/C talent.
ExactTrack was developed to provide a cost effective solution to address hiring pains and compliance issues that have affected many A/E/C firms across the country.
"Many A/E firms don't realize the intricacies of reporting required by EEOC and OFCCP regulations", explains ExactSource COO Katy McDonald. "In some cases, firms are required to track each expression of interest in a job opening - that's a lot of reporting to keep up with", continues McDonald, "and if a firm does not maintain these records, it could cost them".
In addition to addressing compliance reporting, ExactTrack also delivers a streamlined hiring solution that allows users to easily manage every aspect of the hiring process in one place. The functionality and reporting capabilities were built specifically for firms in need of a comprehensive and cost effective solution for managing applicants. Other features of ExactTrack include automatic job postings, branded career pages, custom applicant screening questions, a candidate management dashboard with full communication capabilities, built-in SEO, and instant traffic source tracking.
ExactSource will be streaming a live demo webinar of ExactTrack on Wednesday, April 17 at 2:00 PM Eastern Standard Time. Spaces are limited. To learn more about ExactTrack and register for the upcoming webinar, visit http://www.exactsource.com.
About ExactSource
ExactSource is an organizational consulting, market research and talent solutions company that specializes in providing recruiting services and software to firms in the architectural and engineering sector.
As the only endorsed talent solutions provider of the American Council of Engineering Companies (ACEC), ExactSource has established a prominent presence in the Engineering community and successfully serves firms in 38 states across the nation, including over 20 firms on the Top 500 A+E list.